Daily Current Affairs For All Defence Exams | 16 November 2021 | MKC
Lewis Hamilton wins 2021 F1 Brazilian Grand Prix
Here is the summary of the match:
Hamilton wins in Brazil after starting 10th
Mercedes driver cuts Verstappen's lead to 14 points
Red Bull's Verstappen 2nd, Bottas 3rd for Mercedes
Serzio Perez takes fastest lap
3 races remaining in the Middle East
7 times world champion in formula race Lewis Hamilton defeated Max Verstappen to win the Sao Paulo Grand Prix for Mercedes & slash his Red Bull rival's Formula One lead to 14 points in one of the greatest drives of his career.
National Sports Awards 2021
Main Highlights
President Mr. Ram Nath Kovind handed out National Sports Awards 2021
Major Dhyan Chand Khel Ratna Award 2021 given to 12 Sports persons
35 Sports persons received Arjuna Awards for outstanding performance in Sports and Games 2021
The function was organised at Durbar Hall of Rashtrapati Bhawan
Neeraj Chopra was the first among the Khel Ratna awardees to receive the honour
The President of India Shri Ram Nath Kovind gave away the National Sports Awards 2021 on 13th November, 2021at a function at Rashtrapati Bhavan.Ministry of Youth Affairs & Sports announced the National Sports Awards on 2nd November 2021. National Sports Awards are given every year to recognize and reward excellence in sports.
List of Awardees:
Major Dhyan Chand Khel Ratna Award 2021
| | | |
| --- | --- | --- |
| S. No. | Name of the Sportsperson | Discipline |
| 1. | Neeraj Chopra | Athletics |
| 2. | Ravi Kumar | Wrestling |
| 3. | LovlinaBorgohain | Boxing |
| 4. | Sreejesh P.R | Hockey |
| 5. | AvaniLekhara | Para Shooting |
| 6. | SumitAntil | Para Athletics |
| 7. | Pramod Bhagat | Para Badminton |
| 8. | Krishna Nagar | Para Badminton |
| 9. | Manish Narwal | Para Shooting |
| 10. | Mithali Raj | Cricket |
| 11. | Sunil Chhetri | Football |
| 12. | Manpreet Singh | Hockey |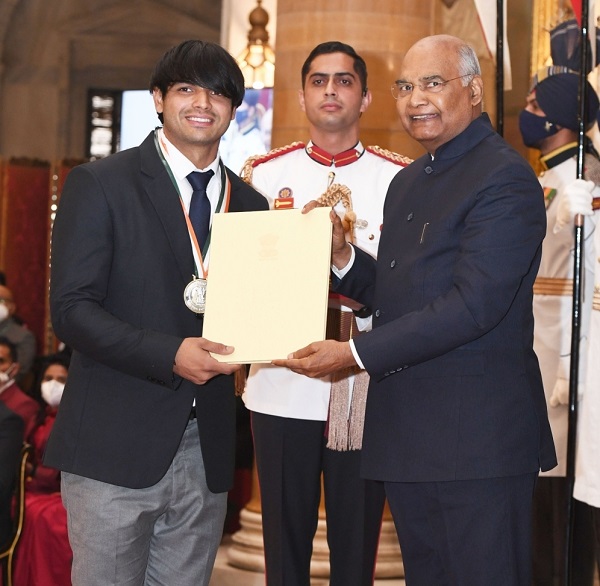 Arjuna Awards for outstanding performance in Sports and Games 2021
| | | |
| --- | --- | --- |
| S. No. | Name of the Sportsperson | Discipline |
| 1 | Arpinder Singh | Athletics |
|  2 | Simranjit Kaur | Boxing |
|  3 | Shikhar Dhawan | Cricket |
|  4 | Bhavani Devi ChadalavadaAnandhaSundhararaman | Fencing |
|  5 | Monika | Hockey |
|  6 | Vandana Katariya | Hockey |
|  7 | Sandeep Narwal | Kabaddi |
|  8 | HimaniUttamParab | Mallakhamb |
|  9 | Abhishek Verma | Shooting |
|  10 | Ankita Raina | Tennis |
|  11 | Deepak Punia | Wrestling |
|  12 | Dilpreet Singh | Hockey |
|  13 | Harman Preet Singh | Hockey |
|  14 | Rupinder Pal Singh | Hockey |
|  15 | Surender Kumar | Hockey |
|  16 | Amit Rohidas | Hockey |
|  17 | Birendra Lakra | Hockey |
|  18 | Sumit | Hockey |
|  19 | Nilakanta Sharma | Hockey |
|  20 | Hardik Singh | Hockey |
|  21 | Vivek Sagar Prasad | Hockey |
|  22 | Gurjant Singh | Hockey |
|  23 | Mandeep Singh | Hockey |
|  24 | Shamsher Singh | Hockey |
|  25 | Lalit Kumar Upadhyay | Hockey |
|  26 | Varun Kumar | Hockey |
|  27 | Simranjeet Singh | Hockey |
|  28 | Yogesh Kathuniya | Para Athletics |
|  29 | Nishad Kumar | Para Athletics |
|  30 | Praveen Kumar | Para Athletics |
|  31 | SuhashYathiraj | Para Badminton |
|  32 | SinghrajAdhana | Para Shooting |
|  33 | Bhavina Patel | Para Table Tennis |
|  34 | Harvinder Singh | Para Archery |
|  35 | Sharad Kumar | Para Athletics |
Dronacharya Award for outstanding coaches in Sports and Games 2021
Life-Time Category:
| | | |
| --- | --- | --- |
| S. No. | Name of the Coach | Discipline |
| | T. P. Ouseph | Athletics |
| | Sarkar Talwar | Cricket |
| | Sarpal Singh | Hockey |
| | Ashan Kumar | Kabaddi |
| | Tapan Kumar Panigrahi | Swimming |
Regular Category:
| | | |
| --- | --- | --- |
| S. No. | Name of the Coach | Discipline |
| | Radhakrishnan Nair P | Athletics |
| | Sandhya Gurung | Boxing |
| | Pritam Siwach | Hockey |
| | Jai Prakash Nautiyal | Para Shooting |
| | Subramanian Raman | Table Tennis |
  Dhyan Chand Award for Lifetime achievement in Sports and Games 2021
| | | |
| --- | --- | --- |
| S.No. | Name | Discipline |
| | Lekha K.C. | Boxing |
| | Abhijeet Kunte | Chess |
| | Davinder Singh Garcha | Hockey |
| | Vikas Kumar | Kabaddi |
| | Sajjan Singh | Wrestling |
Rashtriya Khel ProtsahanPuruskar 2021
| | | |
| --- | --- | --- |
| S. No. | Category | Entity recommended for Rashtriya Khel ProtsahanPuraskar, 2021 |
| 1. | Identification and Nurturing of Budding and Young Talent | Manav Rachna Educational Institution |
| 2. | Encouragement to sports through Corporate Social Responsibility | Indian Oil Corporation Limited |
    Maulana Abul Kalam Azad (MAKA) Trophy 2021:  Panjab University – Chandigarh