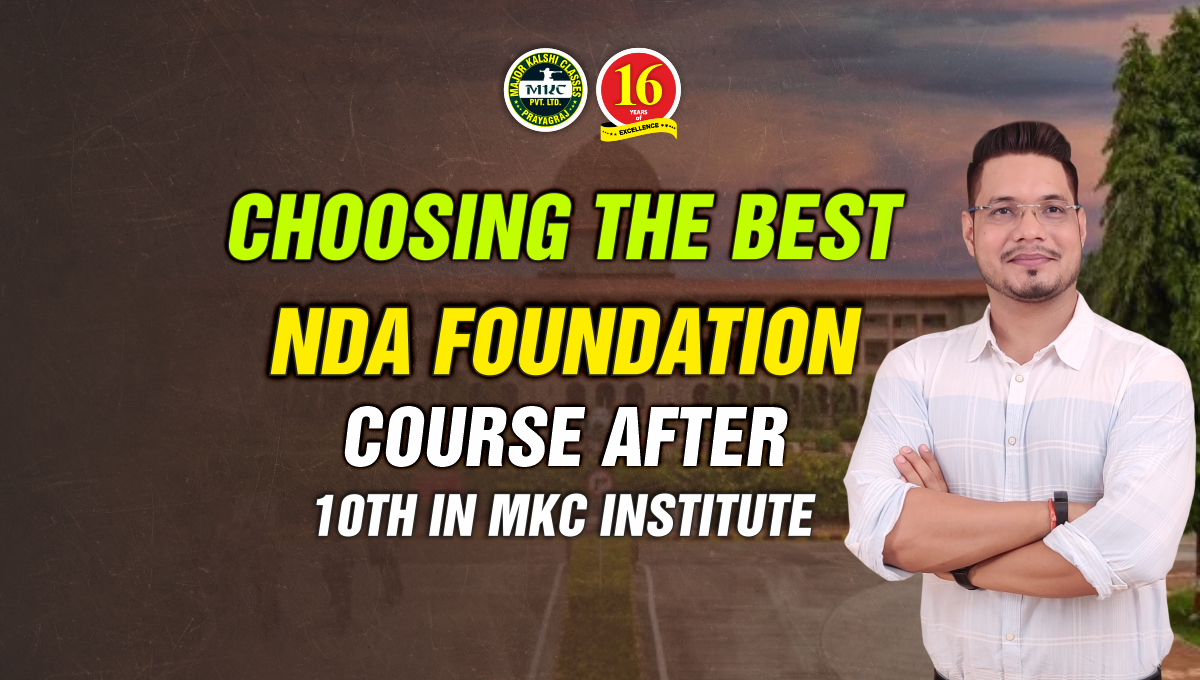 Choosing the Best NDA Foundation Course after 10th in MKC Institute
For students aspiring to join the prestigious National Defense Academy (NDA) and serve their country, a strong foundation and comprehensive preparation are essential. The MKC Institute is widely recognized as one of the leading coaching institutes for defense entrance exams in India. With their specialized NDA Foundation course after 10th, MKC Institute aims to provide students with the necessary knowledge, guidance, and training to excel in the NDA exams. In this article, we will explore the key features and benefits of the NDA Foundation course offered by MKC Institute.
Best NDA Foundation Course in MKC Institute
For individuals aspiring to join the Indian Armed Forces and serve their nation with honor, quality education and comprehensive training are crucial. MKC Coaching, also known as Major Kalshi Classes, is a renowned coaching institute in India that specializes in defense entrance exam preparation. With its dedication to excellence and a proven track record of success, MKC Coaching has emerged as a preferred choice for defense aspirants. In this article, we will explore the key features, benefits, and success factors of MKC Coaching.
Strong Foundation: The NDA Foundation course at MKC Institute is designed to provide a solid foundation for students who have completed their 10th grade and wish to start their preparation early. This course is specifically tailored to meet the requirements and challenges of defense entrance exams, enabling students to develop a strong academic base and a comprehensive understanding of the subjects.
Comprehensive Curriculum: The NDA Foundation course at MKC Institute covers all the essential subjects required for the NDA exams, including Mathematics, English, General Science, and General Knowledge. The curriculum is carefully designed by experienced faculty members who have in-depth knowledge of the exam patterns and syllabus. It ensures that students receive a well-rounded education and are thoroughly prepared for all aspects of the examination.
Experienced Faculty: MKC Institute boasts a team of highly qualified and experienced faculty members who specialize in defense entrance exam coaching. These educators have years of experience in guiding students towards success and are well-versed with the intricacies of the NDA exams. Their expertise, teaching methodologies, and personalized guidance play a crucial role in shaping students' understanding, confidence, and problem-solving skills.
Regular Assessments and Mock Tests: To track the progress of students and help them identify their strengths and weaknesses, MKC Institute conducts regular assessments and mock tests. These assessments not only provide students with a realistic exam-like experience but also help them gauge their performance and identify areas that require improvement. Detailed feedback and analysis provided after each test enable students to refine their exam strategies and enhance their overall performance.
Personality Development and Physical Training: MKC Institute understands that success in the NDA exams goes beyond academic excellence. It emphasizes the importance of overall personality development and physical fitness. The institute provides special training sessions, group discussions, and interview guidance to enhance students' communication skills, leadership qualities, and confidence. Additionally, physical training sessions are conducted to improve students' physical fitness and prepare them for the rigorous physical tests of the NDA selection process.
Past Track Record: MKC Institute has a commendable track record of producing successful candidates in defense entrance exams, including the NDA. The institute's consistent results and high selection rate reflect its commitment to quality education and comprehensive preparation. The success stories of MKC Institute's alumni serve as inspiration and motivation for current students, instilling a belief that they too can achieve their dreams of joining the defense forces.
In conclusion, MKC Institute's NDA Foundation course after 10th provides a comprehensive and specialized approach to prepare students for the NDA exams. With a strong foundation, comprehensive curriculum, experienced faculty, regular assessments, and focus on personality development and physical training, MKC Institute equips students with the necessary skills, knowledge, and confidence to excel in the exams. Aspirants who wish to join the defense forces and pursue a career of honor and service can consider MKC Institute as a top choice for their NDA exam preparation after 10th grade.