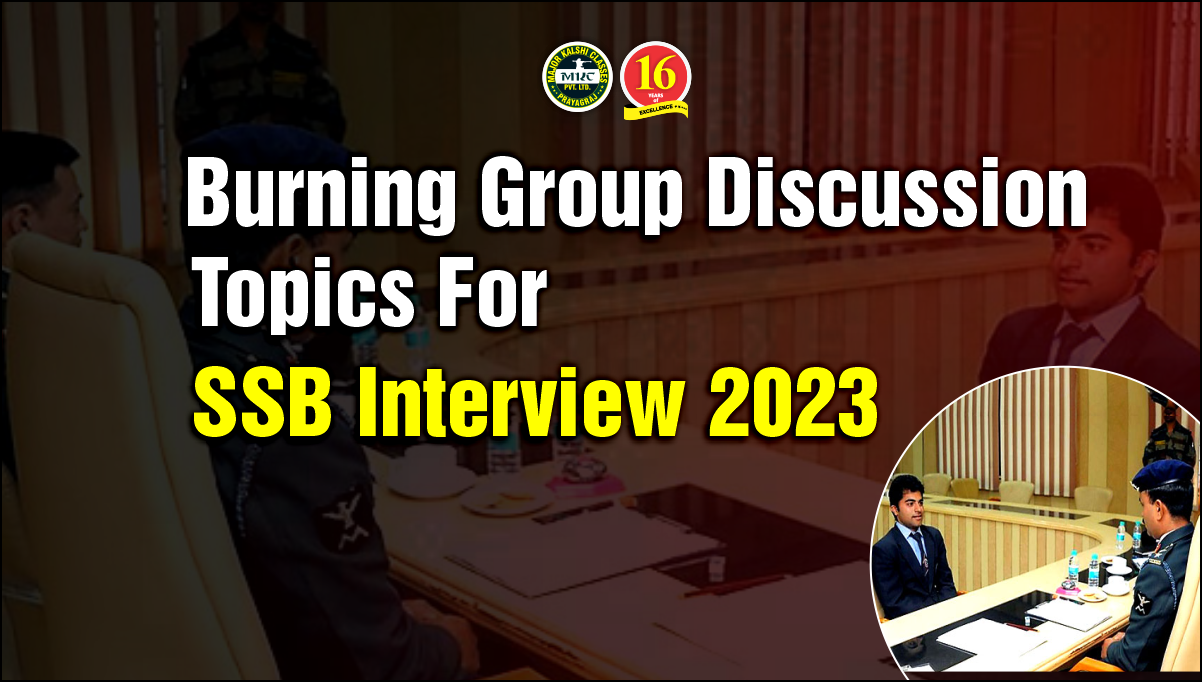 Burning Group Discussion Topics for SSB Interview 2023
After clearing the Written examination you have to appear for the SSB Interview, in this SSB you need to participate in various task and activity. Group Discussion is one of them activities in which you have to present your views on a particular topic. Here in this article we are going to provide some Burning Group Discussion Topics for SSB Interview 2023.
What is SSB Interview?
The SSB Interview is five days long and each day there is different type of tests and activities. In the SSB Interview Online Classes, You will be given detailed information about each day of the Interview and how you have to act and perform, etc. Here is the process of five days of the interview. Candidates can check the pattern of the SSB Interview below:
Stages
Tests
Stage 1
Screening Test

Verbal and non-verbal tests.
PPDT

Stage 2
Psychological Test

Thematic Apperception Test (TAT)
Word Association Test (WAT)
Situation Reaction Test (SRT)
Self Description Test (SD)

Group Testing Officers Tes

GD
GPE
PGT
HGT
IOT
Command Task
Snake race/Group Obstacle Race
Individual lecture
FGT

Personal Interview
–
Conference-
What is Group Discussion Round in SSB Interview?
The Group Discussions conducted during the SSB interview is conducted by the officers to check whether the candidates joining the Army have command ability or not. To complete this task and it is organized in such a way. Firstly the students are divided into different groups in which there are five to six candidates in a group. All the candidates have to discuss any one topic. To start this discussion, candidates have to discuss any one of the latest information in detail with them.
To start the discussion candidates are first made to sit in a group and have to discuss their topics one by one. A candidate has to talk for a minimum of 3 minutes on a topic. After 3 minutes a ring is played so that the next candidate has to appear with his topic and discuss it. In this minimum time, the candidate should cover his topic in such a way that all the necessary information can reach the people.
Burning Group Discussion Topics for SSB Interview 2023:-
Ukraine and Russia War
Women IPL
SCO Presidency
The merits and demerits of the budget released for India's defense system
Advantages and Disadvantages of Union Budget.
India- China Relation
India's Role in the Summit for Democracy.
The economic crisis spread in Sri Lanka.
Current Political and Military Situation in Pakistan.
The migrant crisis for residents of the European Union and Belarus.
Advantages and Disadvantages of Drone Technology.
Is technology the right direction for us in the future?
Facts of relations between India and Afghanistan.
The impact of coronavirus on mental health.
G20 Presidency of India.
What is ChatGPT?
Effects of the global refugee crisis.
Advantages and Disadvantages of Artificial Intelligence in the future.
The state of the world after the corona pandemic.
Does the United Nations still function relevantly?
Do's and Don'ts when appearing for GD:-
There are a few things you need to keep in mind when you will appear in the Group Discussion of the SSB Interview. Below we are giving you information on those important things to pay attention to.
Whenever you join for a group discussion, always be calm.
Look in front of the candidates while doing group discussions.
That means your speaking fluency should be normal.
If a cadet is giving information during GD, he should listen very carefully.
When your turn comes, you should cover more and more knowledgeable things in less time.
Join MKC For Online SSB Interview Preparation:
There are many rules and regulations to appear in the SSB Interview. It is important for every candidate who is appearing in the Interview must be aware of it. Any wrong movement or inappropriate behavior can be a reason to disqualify you. The Major Kalshi Classes prepares the students for the SSB Interview within a month and the training is given by the Ex-SSB Interviewers and Defence Officers etc. In the SSB Interview Online Classes, You need to build officer-like quality to clear the Interview. There are around 15-16 Officers Like Quality. In the Online Classes you get the following:
Unlimited Access to live classes till 1 year
Recorded video, Notes, Online Test Series
Doubt Counter Facility Available
Hindi and English Medium Batch Available, etc
Well, our team is here to help you in every manner regarding the Interview and make you able to clear the Interview. Join the Best SSB Online Coaching in India and get the best, easy and affordable training for the SSB Interview. Here are the SSB Interview Courses details.