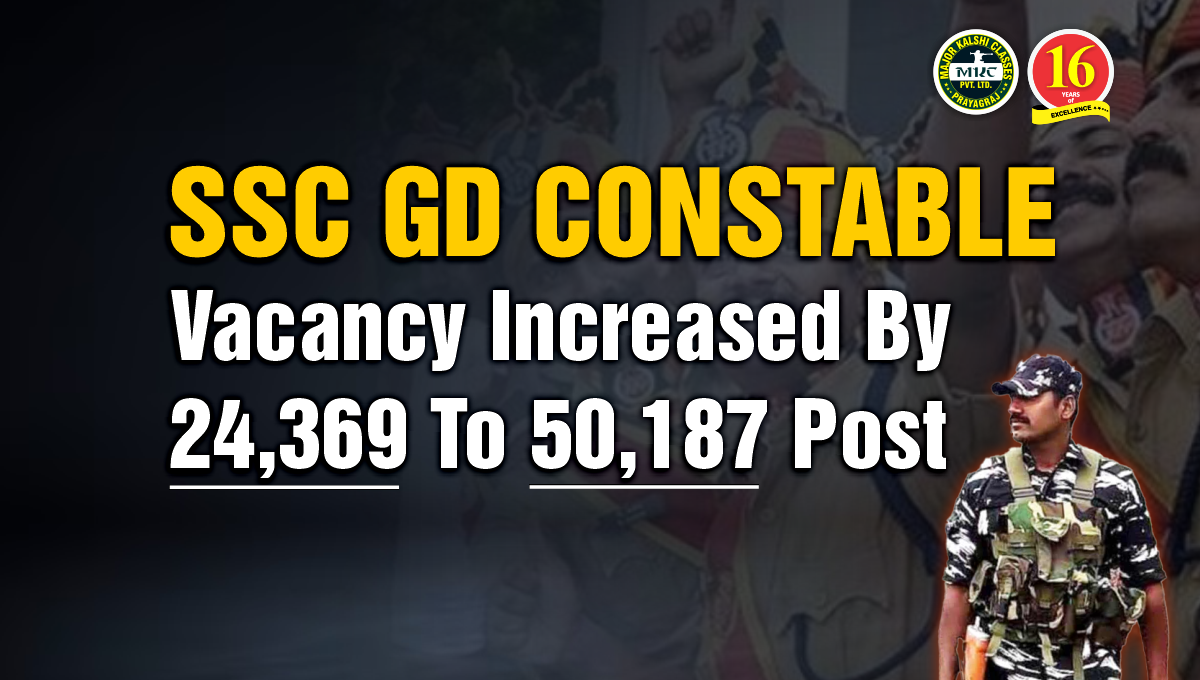 SSC GD Constable Vacancy increased by 24,369 to 50,187 Post
SSC GD Vacancy increased from 24369 to 50187, so a big congratulations who have appeared for the examination. The SSC GD exam was conducted on Jan 2023 for 24369 post but now Staff selection commission has decided to increase the total vacancy. This will help to boost the moral of students and it will lower the cut off marks. SSC GD Constable Vacancy details are below.
SSC GD Constable Vacancy increased
This is a good news for those who have appeared in the SSC GD Constable examination and not scoring the expected cut off, Now by this move the cut off will be lower 10 marks. All the students who scored above 90 marks are eligible to participate in physical test.
Force Name
Total Post
SSC GD Constable Eligibility
Border Security Force (BSF)
21052
Class 10 High School Exam in Any Recognized Board in India.
Central Industrial Security Force (CISF)
6060
Central Reserve Police Force (CRPF)
11169
Sashastra Seema Bal (SSB)
2274
Indo Tibetan Border Police (ITBP)
5642
Assam Rifles
3601
Secretariat Security Force (SSF)
214
Narcotics Control Bureau (NCB)
175
Physical Standard of SSC GD:
The physical standard for SSC GD constable is given below:
| | | |
| --- | --- | --- |
| | Male | Female |
| Height | 170 cm | 157 cm |
| Chest | Expanded – 5 cm Unexpanded – 80 cm | Not Required |
| Weight | Proportionate to height as per medical standards | Proportionate to height as per medical standards |
Height: Should Not be less than 167cm.
Chest: The minimum required chest of the candidates after the expansion should not be less than 85cm.
Weight: Candidates should not be less than 50 kg.
All the candidates should be free from communicable diseases, infections, surgeries, and so on. Candidates should not have any past record of mental disease. The nose, ear, and throat must be working fine.
SSC GD Physical Efficiency Test:
To qualify this test, candidates have to participate in the race.
| | | |
| --- | --- | --- |
| | Male | Female |
| All over India | 5 km in 24 minutes | 1.6 km in 8 minutes |
| Ladakh Region | 1.6 km in 6 minutes | 800 km in 4 minutes |
SSC GD Eligibility Criteria 2023:-
To apply for the SSC GD exam, candidates must meet the eligibility criteria, including age limit, educational qualification, and physical standards. The application process is usually online, and candidates must submit their application form before the deadline.
Nationality: The candidate must be a citizen of India, Nepal, or Bhutan.
Age Limit: The candidate's age should be between 18 and 23 years.
Educational Qualification: The candidate must have passed the 10th (Matriculation) exam from a recognized board.
Physical Standards: The candidate must meet certain physical standards related to height, weight, and chest measurements. These standards vary according to the candidate's gender and category.
Medical Fitness: The candidate must be medically fit to perform the duties of a GD Constable. Any physical deformity or medical condition that may interfere with the candidate's ability to perform duties will disqualify them from the selection process.
Training Periods of SSC GD 2023:-
The training period after clearing the SSC GD (General Duty) Constable is an important phase for candidates to acquire the necessary skills and knowledge to perform their duties efficiently. The duration of the training period usually lasts for nine months, during which candidates undergo rigorous training at the respective training centers of the Central Armed Police Forces (CAPFs).
The training program is designed to cover a wide range of topics, both theoretical and practical, to equip candidates with the necessary knowledge and skills required to serve as GD Constables. The training includes physical exercises, drill, tactics, weapons handling, law, first aid, and outdoor activities such as rock climbing and trekking. The physical training helps candidates to develop the required physical fitness, agility, and endurance needed to perform their duties in demanding and challenging environments.