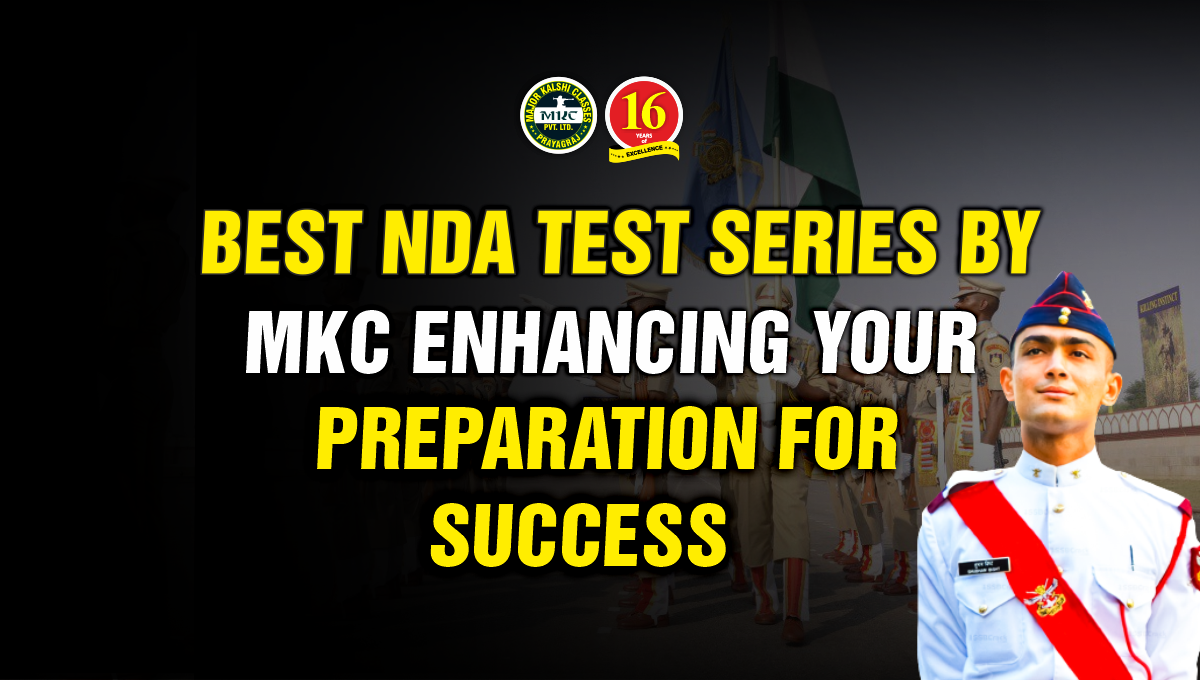 Best NDA Test Series by MKC: Enhancing Your Preparation for Success
Best NDA Test Series by MKC:- Preparing for the National Defence Academy (NDA) entrance examination requires not only comprehensive study materials but also effective practice and assessment. One of the most reliable ways to evaluate your preparation and enhance your exam-readiness is through a well-designed test series. In this article, we will explore the best NDA test series offered by MKC (Major Kalshi Classes), renowned for their expertise in defense exam preparation, and how they can significantly contribute to your journey towards success.
Best NDA Test Series 2023:-
MKC (Major Kalshi Classes) has established itself as a leading institution in the field of defense exam preparation, and its contributions to the success of aspirants are commendable.
The NDA test series offered by MKC provides a comprehensive and structured approach to assess and enhance your preparation for the NDA entrance examination. With their well-designed online tests, mock tests, and subject-wise practice tests, MKC empowers NDA aspirants to evaluate their progress, identify areas of improvement, and fine-tune their exam strategies.
MKC NDA Online Test Series: The MKC NDA Online Test Series is a comprehensive package designed to simulate the actual NDA examination environment. It consists of a series of online tests that cover all the subjects and topics included in the NDA syllabus. The test series provides real-time exam experience, allowing candidates to assess their strengths and weaknesses, improve time management skills, and enhance problem-solving abilities. Detailed performance analysis and feedback are provided to help candidates identify areas of improvement and focus their efforts accordingly.
Mock Tests by MKC: MKC offers a range of mock tests specifically tailored for the NDA entrance examination. These mock tests are designed by experts who have a deep understanding of the exam pattern, marking scheme, and the expected level of difficulty. By practicing with these mock tests, candidates can familiarize themselves with the exam format, gain confidence, and develop effective strategies to tackle different sections of the NDA exam. The comprehensive performance analysis and detailed solutions provided help candidates identify their areas of strengths and weaknesses.
Subject-wise Practice Tests: MKC also provides subject-wise practice tests that focus on specific subjects such as mathematics, English, physics, chemistry, biology, history, geography, and general knowledge. These practice tests allow candidates to assess their understanding of individual subjects and identify areas that require further attention. By practicing with these targeted tests, candidates can strengthen their subject-specific knowledge, improve accuracy, and enhance their overall performance in the NDA examination.
All India Online Test Series: The All India Online Test Series offered by MKC provides a competitive platform for NDA aspirants to gauge their performance on a national scale. These tests are taken by a large number of students from across the country, allowing candidates to benchmark their performance, compare their ranks, and get a realistic assessment of their preparation level. The All India Test Series not only helps candidates identify their relative position but also boosts their confidence and provides valuable insights into the competition.
The detailed performance analysis, feedback, and solutions offered by MKC enable candidates to rectify their mistakes and strengthen their weaknesses. By incorporating the best NDA test series by MKC into your study plan, you can boost your confidence, improve your performance, and increase your chances of success in the prestigious National Defence Academy examination.