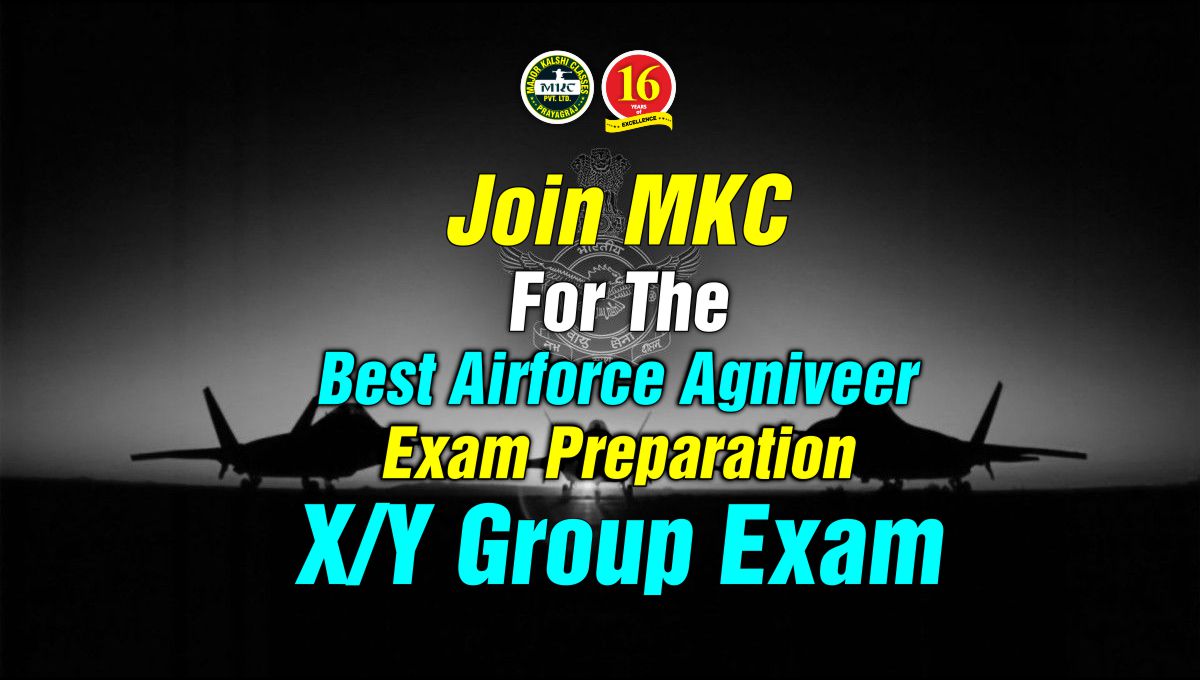 Join MKC for the Best Airforce Agniveer Exam Preparation | X/Y Group Exam |
The Agniveer exam conducted by the Indian Airforce is a gateway for aspiring individuals who wish to serve their nation with pride and dedication. With fierce competition and a challenging selection process, it is essential to have the right guidance and preparation to excel in the Agniveer exam. Major Kalshi Classes (MKC) is renowned for its comprehensive coaching and expertise in defense exam preparation. In this article, we will explore why joining MKC can be the key to achieving success in the Airforce Agniveer exam.
Join MKC for Airforce Agniveer Exam Preparation
Expert Faculty and Guidance:
MKC boasts a team of experienced faculty members who possess in-depth knowledge and understanding of the Airforce Agniveer exam pattern and syllabus. These subject matter experts are dedicated to providing high-quality coaching and guidance to students. Their expertise helps candidates grasp concepts effectively and develop the necessary skills to excel in the exam.
MKC offers well-structured study material that covers all the topics and subjects required for the Airforce Agniveer exam. The study material is designed by experts who have a deep understanding of the exam pattern and frequently updated to align with the latest syllabus. The comprehensive study material ensures that candidates have access to all the necessary resources to prepare thoroughly.
MKC conducts regular mock tests and assessments that simulate the real exam environment. These tests enable candidates to assess their strengths and weaknesses, improve time management skills, and develop effective exam strategies. The feedback received from these mock tests helps candidates identify areas that require additional focus and provides valuable insights for improvement.
Apart from the written examination, the Airforce Agniveer exam also includes a physical fitness test. MKC recognizes the importance of physical fitness and offers specialized training programs to prepare candidates for this aspect of the exam. Physical fitness trainers at MKC guide and train candidates to improve their endurance, strength, and overall fitness levels.
Personality Development:
Joining MKC not only helps candidates with exam-specific preparation but also focuses on overall personality development. The institute offers personality development sessions, group discussions, and interview preparation to enhance communication skills, leadership qualities, and confidence. These additional aspects contribute to the holistic development of candidates and improve their performance in the selection process.
Motivational Support:
Preparing for a competitive exam like the Airforce Agniveer requires determination and motivation. MKC provides a motivating and supportive environment where candidates can interact with like-minded peers who share the same goals and aspirations. The institute encourages students to stay focused, positive, and motivated throughout their preparation journey.
Alumni Network and Success Stories:
MKC has a strong alumni network, and many successful candidates who have cleared the Airforce Agniveer exam attribute their success to the coaching and guidance received at MKC. The success stories of previous candidates serve as an inspiration and further motivate aspiring candidates to strive for excellence.
Joining MKC for Airforce Agniveer exam preparation offers aspiring candidates a comprehensive and structured approach to success. With expert faculty, comprehensive study material, mock tests, specialized physical fitness training, personality development sessions, and a supportive environment, MKC equips candidates with the necessary knowledge, skills, and motivation to excel in the exam. If you are aspiring to join the Indian Airforce and aim to clear the Agniveer exam, consider joining MKC for the best preparation experience and increase your chances of achieving your dream of serving the nation with honor and pride.