SSC Tech 59 and SSCW Tech 30 Merit List OTA Chennai Men and Women Out
SSC Tech 59 and SSCW Tech 30 Merit List Out
Indian Army has published an official cutoff to narrow down the field of applicants for the SSC Tech 59 and SSCW Tech 30 courses at Chennai's Officers Training Academy, which will begin in October 2022.
With this access, engineering graduates are able to appear before the SSB board without having to take an entrance exam. Candidates who have been shortlisted can now choose their SSB dates, which are offered on a first-come, first serve basis.
buy singulair online buy singulair no prescription

Candidates were narrowed down based on their cumulative grade point average through the sixth semester.
Download SSC Tech 59 SSCW Tech 30 Result
The list of individuals who have been recommended after passing the SSB interview for the SSC 59 Men technical admission has been made public by the Indian Army.
The cutoff for the majority of the branches has not changed since SSC Tech 58. For the electronics and communication branch, the cutoff has gone up from 60% to 61%.
For engineering graduates, SSC Tech is a special admission that enables them to apply for the SSB interview without taking a written test. According to the order in the merit list, joining instructions will be sent to each candidate on the list. At OTA Chennai, the programme was slated to begin in October 2022.
The majority of the branches are vacant this time, and nobody was suggested in those branches. There are 73 male candidates that passed the SSB interview for SSC 59 technical admission. The SSBCrack team congratulates each and every successful applicant.
Latest News Updates:
SSC Tech 59 and SSCW Tech 30 Cut-Off Percentage
The candidates who are waiting for the SSC Tech 59 and SSCW Tech 30 Cut off for the SSB shortlisting. The women's and men cut off have been provided separately.
SSC Tech 59 October 2022 Course
Candidates who have not yet submitted copies of their mark sheets, degree/provisional degree certificates, and other documents specified in the course announcement must send in a self-attested scanned copy of these documents as soon as possible via the "Feedback/Query" option on our website, www.joinindianarmy.nic.in, or by fax (No 011 – 2619-6205).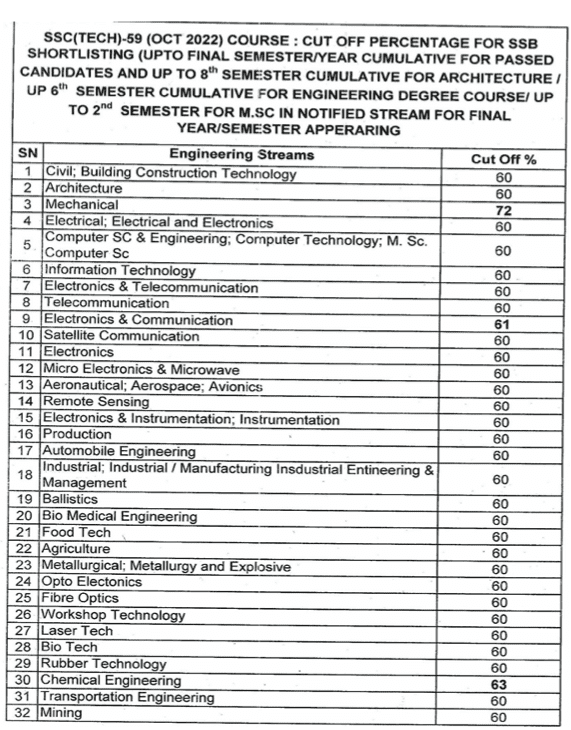 SSCW Tech 30 October 2022 Course
As long as there are openings, the applicant is in good health, in possession of all required documentation, and satisfies all eligibility requirements outlined in the course announcement, joining letters (JL) will be distributed based on MERIT.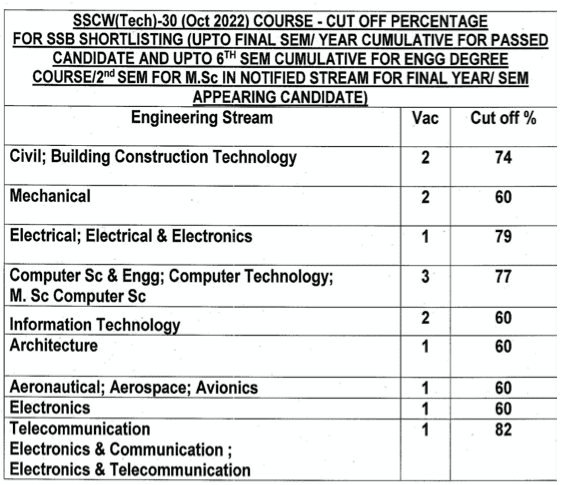 FOLLOW