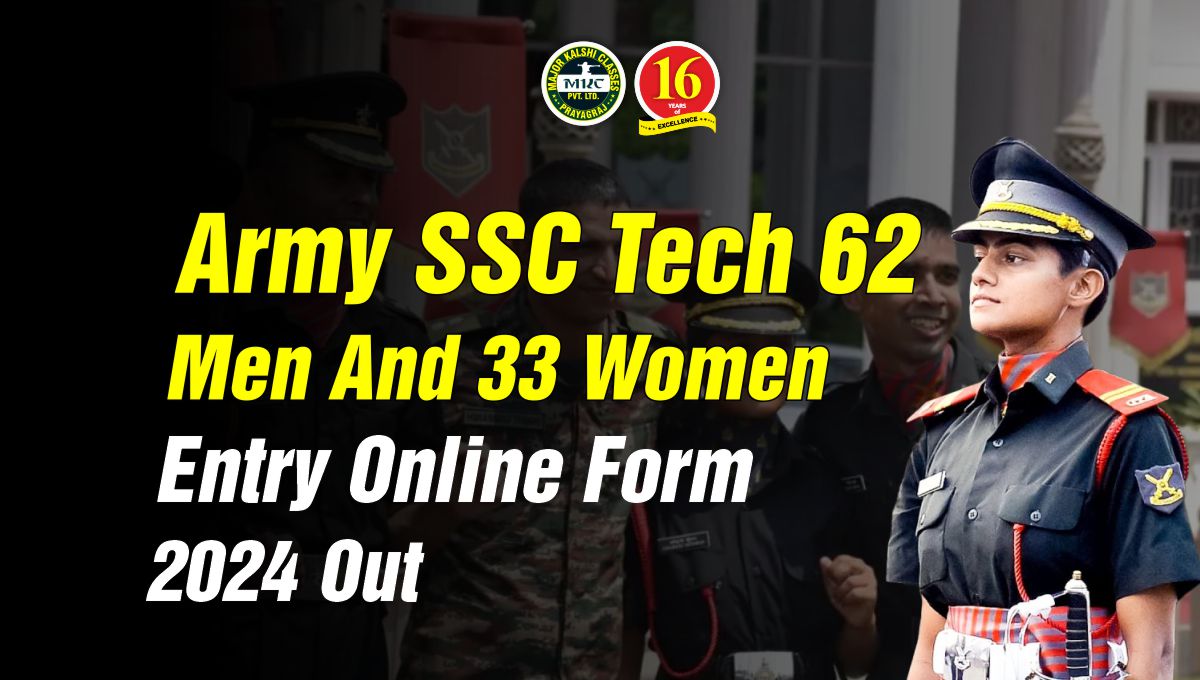 Army SSC Tech 62 Men and 33 Women Entry Online Form 2024 out
Army SSC Tech 62 Men and 33 Women Entry:- Attention, aspiring candidates! The Indian Army has recently released the notification for the Short Service Commission (SSC) Tech Entry 62 Men and 33 Women Entry for the April 2024 Batch. This is a remarkable opportunity for individuals who have a strong desire to serve their nation and embark on a fulfilling career in the Indian Army. If you are interested in joining the Army SSC Tech Recruitment 2024, this article will guide you through the online application process.
Army SSC Tech 62 Men and 33 Women Entry:-
Army SSC Tech Entry 62 Men & 33 Women Entry April 2024 Batch online application process has commenced. Eligible candidates with a passion for serving in the Indian Army should seize this opportunity by applying online within the specified dates. Ensure that you meet the eligibility criteria, provide accurate information, and adhere to the instructions throughout the application process.
Important Dates:
The online application process for Army SSC Tech Entry 62 Men and 33 Women Entry April 2024 Batch has commenced. It is crucial to note the following important dates to ensure a successful application:
Online Application Start Date: 20th June 2023
Online Application End Date: 19th July 2023
Eligibility Criteria:
Before applying for the Army SSC Tech Entry, candidates must carefully review the eligibility criteria outlined in the official notification. Here are the key requirements:
Nationality: Candidates must be Indian citizens.
Age Limit: The age limit for SSC Tech Entry may vary each year. Generally, candidates must be between 20 and 27 years of age at the time of application. Age relaxation is applicable as per government rules.
Educational Qualifications: Candidates should possess a minimum educational qualification of a Bachelor's degree in Engineering or Technology from a recognized university or institution. The specific disciplines required for the entry will be mentioned in the notification.
Gender: Both men and women candidates are eligible to apply for Army SSC Tech Entry.
Physical Fitness: Candidates need to meet the physical fitness standards set by the Indian Army, including height, weight, vision, and overall physical health. Specific details can be found in the official notification.
Application Process: To apply for Army SSC Tech Entry 62 Men & 33 Women Entry April 2024 Batch, follow these steps:
Online Registration: Visit the official website of the Indian Army and navigate to the SSC Tech Entry application page. Click on the registration link to create an account.
Application Form: Log in using the provided credentials and fill in the application form with accurate personal, educational, and contact details.
Document Upload: Upload scanned copies of the required documents, such as photographs, signatures, educational certificates, and other relevant documents. Ensure that the files meet the prescribed format and size guidelines.
Application Fee Payment: If an application fee is applicable, make the payment using the available online payment modes.
Review and Submission: Before final submission, review all the entered information and uploaded documents. Make any necessary corrections or modifications.
Print Application Form: After successful submission, take a printout of the application form or confirmation page for future reference.
Remember to keep track of any updates or notifications related to the Army SSC Tech Entry 62 Men & 33 Women Entry April 2024 Batch. Stay updated on the official website for any changes in the schedule or additional requirements.