NDA 2022 SSB Tips by MKC. Know the Details Process of SSB
NDA 2022 SSB Tips by MKC:- The result of the National Defence Academy 2022 has been made available on the official website of the Union Public Service Commission on 9th May 2022. After the declaration of the written test result, the qualified candidates will now have to prepare for the second stage of NDA i.e. SSB interview. There will be many such youths across the country that can appear for the SSB interview after qualifying for the NDA exam for the first time. In such a situation, it is necessary for these candidates to know each and every stage of the SSB interview completely and to be aware of the important tips related to their preparation.
In today's article, we are sharing with you the information of each stage under this interview of 5 to 6 days to be conducted at SSB centres. Along with this, tips will also be provided by the qualified teachers of MKC for how you can qualify for these tasks. Let us know which tasks you will have to complete in 3 days under which stage under the SSB interview.
5 days Procedure in SSB Interview
Stages
Tests
Stage 1
Screening Test
Verbal and non-verbal tests. PPDT
Stage 2
Psychological Test
1. Thematic Apperception Test (TAT)
2. Word Association Test (WAT)
3. Situation Reaction Test (SRT)
4. Self Description Test (SD)
Group Testing Officers Tes
1. GD
2. GPE
3. PGT
4. HGT
5. IOT
6. Command Task
7. Snake race/Group Obstacle Race
8. Individual lecture
9. FGT
Personal Interview
–
Conference –
How do you Appear in SSB Interview:-
To appear in the SSB interview at National Defence Academy, you have to qualify NDA written exam conducted by UPSC. Probably the candidates will be invited for SSB interview 2022 between July to September. After the invitation, candidates can appear for an SSB interview by selecting nearby SSB centres as per their convenience. To appear in this interview, candidates have to keep many important things in mind. Know what are the things to keep in mind before appearing for the SSB interview. NDA 2022 SSB Tips by MKC.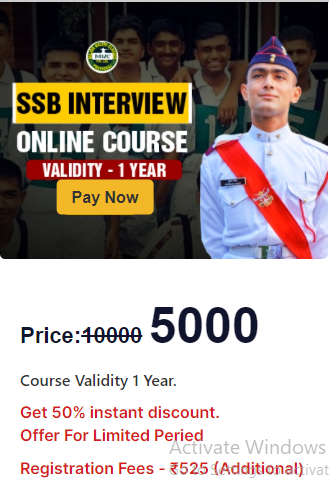 Very Important Words for Appeared in SSB Interview:-
Before appearing in the SSB interview, you should make yourself physically and mentally fit. Otherwise, you will be declared medically unfit and debarred from the SSB interview.
Always avoid the most common mistake at the SSB centre or it will not be good for your carrier.
Treat yourself like a normal candidate and keep your behaviour normal.
NDA 2022 SSB Tips by MKC:-
To prepare for the SSB interview at National Defence Academy, we are sharing some tips from excellent teachers of Major Kalshi Classes, the best coaching institute for Defence preparation. By following the tips, you can probably perform better in the SSB interview and get appointed as a qualified officer. Let us know which tips you should follow to prepare for the SSB interview through MKC.
For Stage 1st:-
Firstly the candidate needs the best text materials for the preparation of PIQ Form and Verbal, Non-Verbal, and PPDT which comes under this phase. PIQ i.e. Personal Information Questions are asked in which you are given a form and in that form, all the information related to you should be filled correctly by you. You can read books published by Major Kalshi Classes Coaching Institute to complete tasks related to the mental level like verbal and nonverbal. For the preparation of PPDT, students kept trying to make sentences of new words according to the stipulated time using the books of MKC Publication. Improve the power of your imagination to produce the story related to the picture so that you can score good marks in PPDT.
For Stage 2nd:-
Under Stage II, the candidate has to prepare for Psychology, GTO, Personal Interview, and Conference. During each stage, you are made to complete different types of tasks to check you physically, intellectually, and mentally. Let us know that by adopting these types of tips, you can easily pass these tasks to be held from day two to day five. NDA 2022 SSB Tips by MKC.
Tips for Psychology Test: –
During the Psychology Test, the candidate has to perform according to his/her intellectual ability. Tasks like TAT, WAT, SRT, and Self-Description Test are conducted by the officials. To pass these tasks, you have to improve your English language and can do better in TAT and WAT by constantly reading and using new words and phrases. You can also prepare from the comfort of your home by using Psychology books published by Major Kalshi Classes Pvt Ltd.
In the Situation Reaction Test, you are exposed to different types of situations during any given problem to check the ways to solve that problem. For this, you need to have confidence in yourself and know how to command your team. You can join MKC coaching institute for its preparation. After SRT, in the Self-Description Test, the candidate has to give accurate and correct information about himself in detail. Keep in mind that when you are describing yourself, you do not hesitate and keep on talking fluently.
Tips for GTO Test:-
In the GTO to be held on the third and fourth day under Stage 2, candidates have to complete both mental and physical tasks. For mentally organized disciplines like Group Discussion, Military Planning Exercise, Progressive Group Task, and Final Group Task, you need to work hard and hard. To perform better in Group discussions, you should know how to speak English fluently and describe any topic better. In the books of MKC Coaching Institute, you get a variety of topics related to Group discussions and their answers.
Your presence of mind is tested in many tasks like Military Planning, and Progressive Group Test. For its preparation, keep yourself calm and have the spirit to take decisions in any situation. You should exercise regularly to prepare for the task related to physical fitness and at the same time keep a check on your fitness by attending the classes organized by MKC every Sunday.
Tips for preparing for a personal interview: –
During the interview, the officials may ask you your personal questions and questions related to the academic session. So answer the questions without any hesitation and give correct answers to each and every answer. During the interview, to increase your knowledge of current affairs more, read the current affairs published weekly and mentally. You can also read Major Kalshi Classes Pvt Ltd books to get current affairs and other important information. NDA 2022 SSB Tips by MKC
To prepare for this interview to be held on the last day, mock interviews are organized by the teachers of Major Kalshi Classes and retired army officers. To appear in the mock interview, enrol yourself in MKC today and prepare for the actual interview by attending the interview.
By connecting with Major Kalshi Classes Coaching Institute Prayagraj you can easily prepare for your SSB 2022 interview and score more marks in the actual interview. To join Major Kalshi Classes and prepare for the exam today, you can use the below-given contact number and official website and enrol at home or by visiting the branch.
Frequently Asked Question:-
How to prepare for National Defence Academy SSB interview?
Ans: –To prepare for the SSB interview at National Defence Academy 2022, you should go through the best books related to the interview. Also, join Mock Interview with Major Kalshi Classes Coaching Institute and prepare yourself.
Can I choose a centre near me for SSB interview?
Ans: -If there are SSB centres somewhere near you and you want your SSB interview to be held at these centres, then you can choose these centres while choosing the SSB centre.
How do coaching institutes help in preparing for SSB interviews?
Ans: –Major Kalshi Classes Coaching Institute located in Prayagraj organizes all the necessary lesson materials and mock interviews for the preparation of the SSB interview.
What are the SSB Dates of SSB Interview 2022?
Ans: –According to the official website, SSB Interview 2022 will probably be conducted between July and September.