Navy MR Vacancy 2022, Notification, Eligibility, etc.
Notification will be issued soon by the Indian Navy to fill out the application form for matriculation recruits to be filled after class X by the Indian Navy. Under Matric Recruit, candidates get a chance to work on the posts of Chef, Stewart, and Hygienist. After the release of the notification of the Matric Recruit application form on the official website of the Navy, you should soon start preparing for the examination by filling out your application form. Through today's article, we will give you information about when the notification of Navy MR will be issued and what documents are required to fill this application form. Let us start and give you complete information about Navy MR Vacancy 2022 notification and eligibility as well as the selection process.
Navy MR Vacancy 2022, Notification, Eligibility, etc.
As you know that Indian Navy Matric Recruit application form is filled out twice a year and candidates get two chances. If you want to clear the Indian Navy Matric Recruit exam in just one go, then start preparing for the exam today. The candidate who fills the application form for Matric Recruit has to go through the stages like Written Exam, Document Verification, and Medical Test. Today, here we are giving you the important dates for the notification of the application form and the selection process as well as the written examination information in detail. So let us know which are the important dates for Navy MR.
Education Criteria:-
Stay with us for important dates and other information related to the exam. Let us know what eligibility criteria a candidate has to fulfil in order to fill out the application form.
It is mandatory for the candidate to fill out the application form to pass the 10th class examination from the recognized schools of his/her state or country.
The candidate does not have any kind of percentage foundation in class X to fill out the application form.
The candidate's date of birth should be between 1st April 2002 to 30th September 2005 to fill out the application form.
The eligibility criteria are the same for all three posts under matriculation recruitment.
It is mandatory for the candidate to be an Indian citizen or a citizen of the friendly country of India to fill out the application form.
To fill
the application form, the height of the candidates should be 157 cm and the weight should be in the ratio to their height.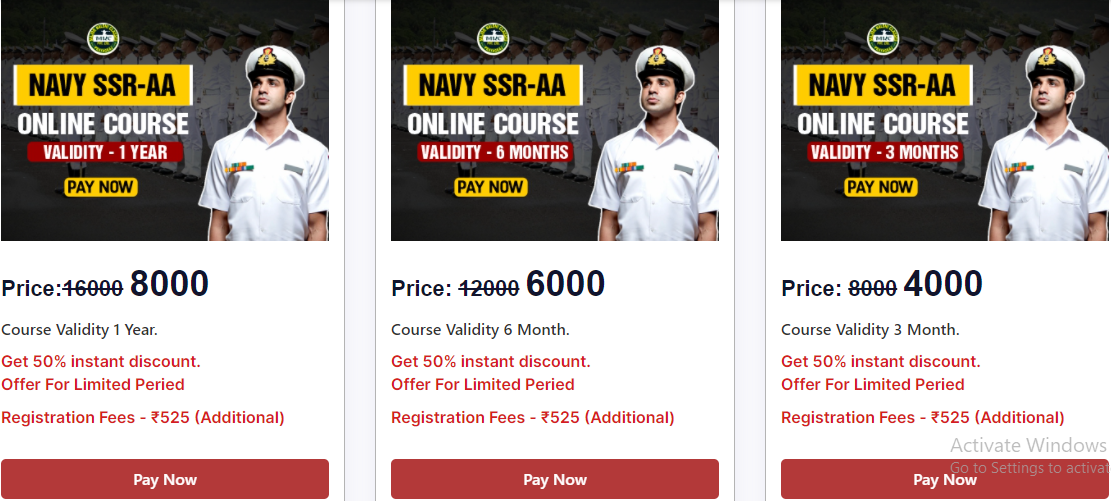 Post Name
Eligibility
Age Limit
Chef
Passed 10th class from a school recognized by the Government of India or a State.
Age Between: 01/04/2002 to 30/09/2005
Steward
Hygienist
Physical Eligibility Details:-
After filling out the application form, the candidate has to fulfil the physical eligibility criteria along with the written test. Below we have provided you with brief information about Physical Criteria and Physical Fitness Test.
Height : 157 CMS
1.6 KM Running in 07 Minutes
Squats (Uthak Baithak): 20
Chest: Minimum Expand 5 CMS
Physical Fitness Test
| | |
| --- | --- |
| Particulars | Parameter |
| Running | 1.6 km in 7 min |
| Push-ups | 10 |
| Squats | 20 |
For written exam preparation, you can easily go through the best books of Major Kalshi Classes using the exam pattern and syllabus given below. Books for Navy MR are published by MKC in Hindi and in English languages. Get yourself registered in MKC today using the contact number given below for the best notes and information for the topics related to the topics given below.
Exam Pattern of Indian Navy MR:
The Examination is divided into two parts. The first is Science and Mathematics. The second part is General Knowledge.
The Question Paper is divided into four parts and each part consists of 25 Questions.
The Time Allotted is 30 Minutes.
The candidates are required to pass all sections.
There are four alternatives to every question. That means as a penalty, one-fourth (0.25) of the marks assigned to the question will be deducted.
| | | | | |
| --- | --- | --- | --- | --- |
| S.No | Subject | Question | Marks | Total Time |
| 1. | General Knowledge | 25 | 25 | 30 min |
| 2. | Maths & Science | 25 | 25 | |
| Total | | 50 | 50 | |
Navy MR Syllabus:-
Subject

Topics

Science

· Work, energy, and power

· Universe (Planets/ Satellite, Sun, Earth)

· Sound and wave motion

· Newton's laws of motion

· Nature of matter

· Metals and non-metals

· Measurements in science

· Heat and temperature

· Force and gravitation

· Electricity and its Applications

· Carbon and its compounds

· Atomic structure

Maths

· Algebraic identities

· Basic trigonometry

· Geometry

· Interest

· Linear equations

· Mathematical simplification

· Measures of central tendency (Median, average, and mode)

· Percentage

· Polynomials

· Profit and loss

· Ratio and proportion

· Simple mensuration

· Simultaneous equations

· Speed and distance

· Work and time

General Knowledge

· Sports Championships, Winner, Terms, Number of Players in different sports.

· History, Awards, and Authors, Wars, and Neighbours, Defense, Discoveries, Diseases, and Nutrition.

· History – Culture and Religion, Freedom Movement, Heritage, Arts and Dance, Important National Facts about India.

· Geography -Rivers, Ports, Inland, Mountains, Harbors, Soil.

· Eminent Personalities, National Bird, Anthem, Animal, Flower, Song, Flag, Sport, Monuments.

· Current Affairs, Capitals, and Currencies, Languages, Common Names, Full Forms, and Abbreviations.
In today's article, we have given you detailed information about Navy Matric Recruitment Notification, Eligibility Criteria and Exam Syllabus, and Physical Fitness. If you want to clear the Matric Recruit Exam on the first attempt after class 10th then download Major Kalshi Classes Learning Application today and start preparing for the exam sitting at home. For any kind of preparation related to the exam, you should stay on the official website of MKC.
Frequently Asked Question:-
How to fill out the application form for Matric Recruit?
Ans:-To fill the application form for Matric Recruit, the candidate must have passed class X and at least the candidate must have been born after 1/4/2002.
Can women also fill out the application form for matriculation recruitment?
Ans:-Only male candidates can fill out the application form for Matric Recruit, yet this application form is not available for women.
What are the posts under the application form of matriculation recruitment?
Ans:-The application forms for the post of matriculation recruits to be filled after class X are filled for the posts of chef, Steward, and hygienist.
What are the topics asked in Navy MR written exam?
Ans:-A total of 50 questions from General Knowledge, Elementary Mathematics, and General Science are asked from the candidate in the written examination of Matric Recruit.
Is the training of the candidates done after the selection?
Ans:-The candidates who are selected in the Navy Matric Recruit are placed on a training period