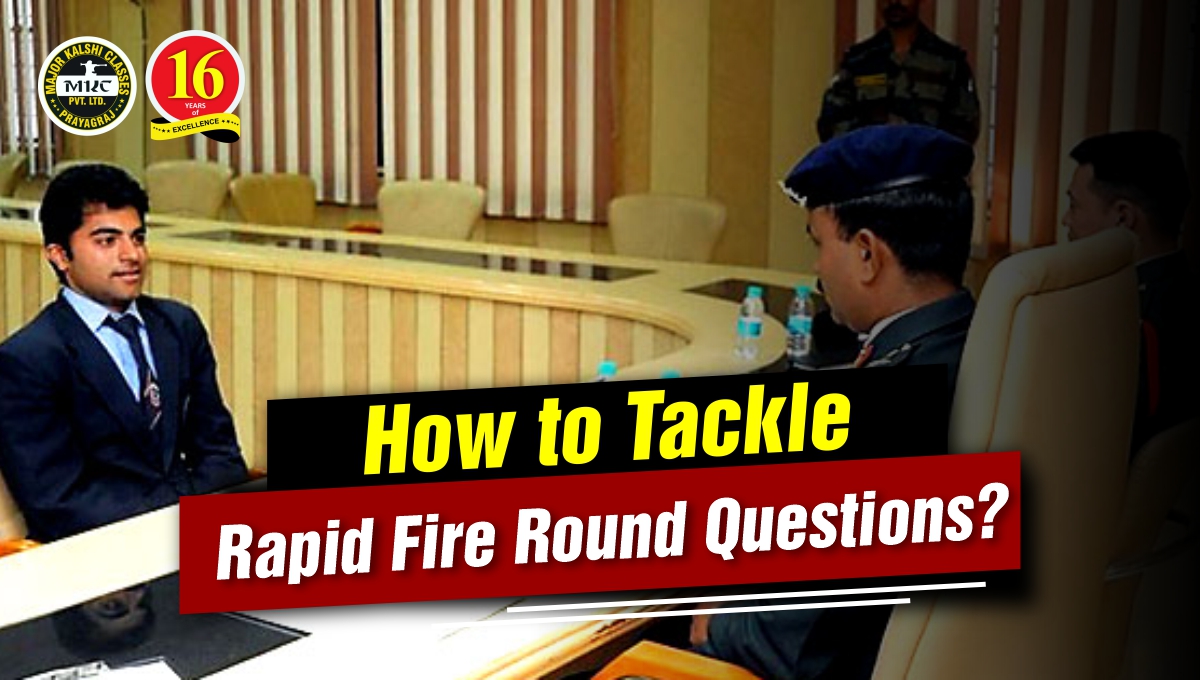 How to Tackle Rapid Fire Questions in SSB ?
Welcome all SSB Aspirants ! You all must have heard about Rapid Fire Round Questions during Personal Interview in SSB . But , A lot has been said negative about this part of interview. Many Candidates get rejected in SSB because of rapid fire questions . Although these rapid fire questions are easy to answer but the way they are asked it makes them difficult to answer and thus they are called " RAPID FIRE QUESTIONS" . In this Blog , we will discuss How to tackle Rapid Fire Questions in SSB ? If you want Best SSB Interview Guidance , join Major Kalshi Classes – Best SSB Interview Coaching in India .
The SSB Interview: Unveiling the Path to Excellence
The SSB (Service Selection Board) Interview is a crucial stage in the selection process for candidates aspiring to join the esteemed ranks of the Indian Armed Forces. Designed to assess a candidate's mental and physical capabilities, leadership potential, and overall personality, the SSB Interview is a comprehensive evaluation that spans over five days.
The interview is conducted in two stages: Stage I and Stage II. Stage I includes a screening test that examines a candidate's intelligence and aptitude. Successful candidates move on to Stage II, which encompasses a battery of tests, group discussions, and personal interviews. The Interviewing Officers (IOs) and Group Testing Officers (GTOs) evaluate each candidate's response under various scenarios, testing their decision-making skills, communication abilities, and teamwork.
How to Prepare for TES 50 SSB Interview – Click Here.
The SSB Interview's core aim is to identify officers with the right blend of intelligence, courage, and character to serve the nation. It goes beyond academic qualifications, seeking individuals who exhibit determination, resilience, and a strong sense of responsibility.
SSB Interview is not as strict or tough as any other interview, candidate may find is difficult just because the success rate at SSB interview is very less, it doesn't mean that all other who do not make it once can not apply or eligible for SSB interview. There are certain things one must remember while entering in Services Selection Board.
SSB Personal Interview Marking Process
Process & Impact while PI :-
| | |
| --- | --- |
| PROCESS | IMPACT |
| ENTRY – 1.PIQ Form 2.Grooming 3.Posture 4.Etiquettes & Manners | 10 % |
| Q&A SESSION– 1. Responses & Replies 2. Natural & Rational Replies 3.Level of Talk 4.Consistency 5.Efforts made to Achieve Success | 50 % |
| MOTIVATION & AWARENESS– 1.Self Awareness 2.World & Around Awareness 3.Tech/Service Knowledge 4.Reason for Joining Defence Services | 40% |
SSB Personal Interview Marking Scheme
What is a Rapid Fire Questions Round & How to Tackle it ?
Rapid Fire at Service Selection Board is different in a way that rather than asking questions quickly Interviewing Officer will ask you multiple question in form of a single chain, which you have to remember and answer them in the same order as they were asked if possible or else try to answer as much as possible leaving the order aside. The questions asked in Rapid Fire round at SSB are very simple; they are generally related to candidate's life.
An example of a set of Rapid Fire Questions is given below :
1. Name of the place you come from?
2. Institution where you had your education?
3. Your 10th class marks?
4. Favourite subjects in 10th class?
5. Favorite teachers in 10th class, why?
6. Teachers you didn't like in 10th, why?
7. Your 12th class marks?
8. Favourite subjects in 12th class?
9. Favorite teachers in 12th class, why?
10. Teachers you didn't like in 12th, why?.
Tips to Tackle Rapid Fire Questions :-
Remember the Question in a Sequence .
Answer the Question in the Sequence .
Don't skip any Question.
Speak only as much as required .
Core Areas from which Questions are asked in PI During SSB Interview
Family Background
Education Level
Co-Curricular Activiries
Friends Circle
Activity Planning
Reason for Joining Defence Forces .
Questions on Your Strength & Weaknesses .
This is all about How to Tackle Rapid Fire Questions in SSB ? I hope, this article will sure help you out in gaining tips for tackling Rapid Fire Round Questions in SSB . For More Guidance , Stay related to our Blog page where you will get Best Guidance for Defence Exams . If you want to crack SSB , Join Major kalshi classes for Best SSB Interview Guidance . Here at MKC, we have Retd. SSB Interview Board Officers who guides you and polishes your Officer Like Qualities (OLQ's) and make you best for SSB Interview . Join Major kalshi classes – Best SSB Coaching in Allahabad. For Any Assistance , Call us on 9696330033or Whatsapp at 9696220022
For Regular Defence Updates – Click Here.
Thank You !