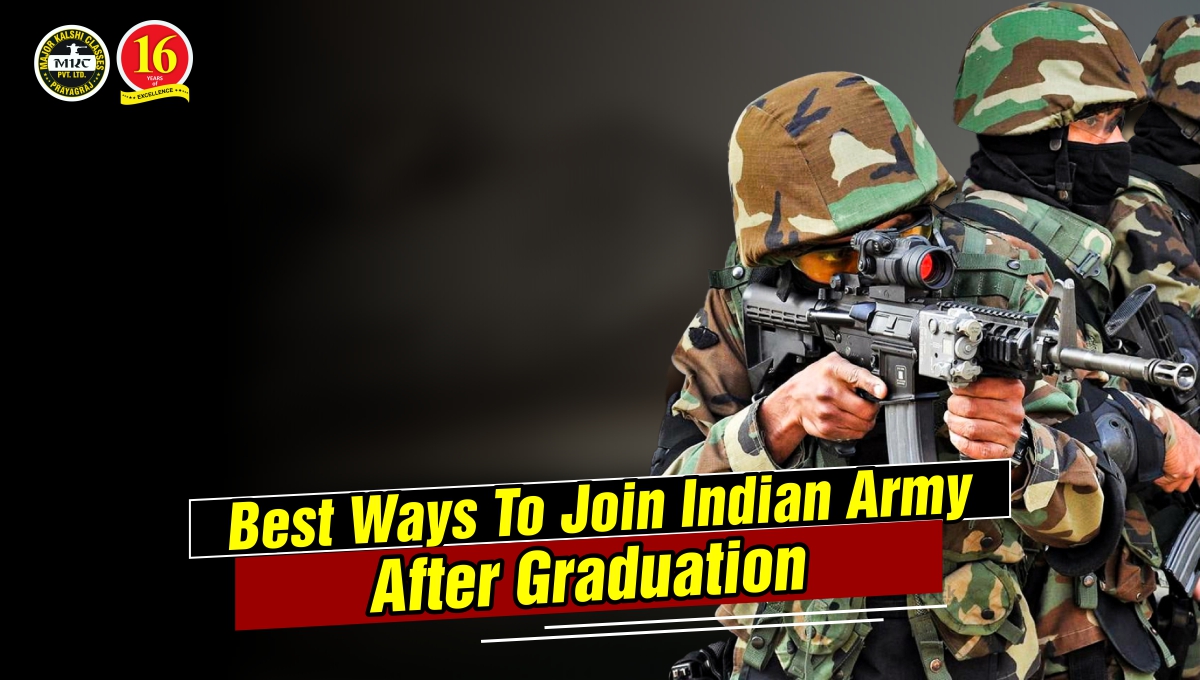 Best Ways to Join Indian Army after Graduation ?
Wanting to join the Indian Army after finishing college is a great goal. It lets you help your country and have a satisfying job. Having a college degree can help you get into the army in different ways. Many graduate candidates don't know about joining Indian Army after Graduation. In this blog , we shall discuss some Best ways to Join Indian Army after Graduation .Here are some of the best ways to do it
Note: These vacancies are released twice a year.
1. CDS Entry – Combined Defence Services
The CDS Exam, organized by UPSC, picks candidates for the SSB interview. Those who do well in the interview and make it to the Final Merit List are given joining letters for the academies they prefer. Only Unmarried Male & Female candidates can appear in CDS entry . Boys get Permanent Commission while girls can only apply for Short Service Commission.
Read Here – Direct Entries In SSB Interview | 6 SSB Direct Entries 2023-24
Indian Military Academy , Dehradun
Age between 19 and 24 years
Must have a Bachelor's degree from a recognized institution
Training period: 18 months
Commission type: Permanent
Approximately 100 seats available each term
Officers Training Academy
Age between 19 and 25 years
Must hold a Bachelor's degree from any recognized institution
Training period: 49 weeks
Commission type: Temporary
Approximately 170 seats available each term
Prepare for CDS 1 2024 Exam with Major kalshi Classes : Enroll for CDS 1 2024 Online Coaching
NCC SPECIAL ENTRY SCHEME
Commission Type: Temporary
Age Requirement: Between 19 and 25 years when joining
Graduation: Need at least 50 percent marks in your Bachelor's degree
NCC: Must have a minimum B grade in the NCC 'C' Certificate Examination
Training: Takes 49 weeks at OTA, Chennai
Approximate Seats: Approximately 50 available each term
Selection Process: Candidates apply for NCC entry through notifications on the joinindianarmy website. Shortlisted candidates go through an SSB Interview, followed by medical assessments. Joining letters are issued based on all-India merit lists, which consider marks obtained in the SSB Interview.
Prepare for NCC SPCL ENTRY with Major Kalshi Classes : Enroll for SSB Interview Online Coaching
Candidates who have completed B.Tech Degree , can apply for SSC Tech or TGC Entry . Details of these courses will be covered later in another blog.
Why to Join Indian Army ?
Joining the Indian Army is a significant and honorable decision that can be driven by various personal and patriotic reasons. Here are some compelling reasons why individuals may choose to join the Indian Army:
Patriotism and Service to the Nation: Many people are deeply passionate about serving their country. Joining the Indian Army allows individuals to directly contribute to the defense and security of India, which is a powerful way to express their love and commitment to the nation.
Sense of Duty: Some individuals feel a strong sense of duty towards their fellow citizens. Joining the Army is seen as a way to fulfill this duty by protecting the nation and its people.
Career and Job Security: The Indian Army offers a stable and rewarding career. It provides a steady income, job security, and opportunities for career advancement, all while serving the country.
Adventure and Challenge: The Army offers a life filled with adventure, challenges, and excitement. From training exercises to deployments, soldiers experience a variety of situations that test their physical and mental capabilities.
Leadership and Discipline: Joining the Army instills discipline, leadership skills, and a strong work ethic. Soldiers are trained to be responsible, accountable, and to work as part of a team, qualities that are valuable in both military and civilian life.
Education and Training: The Indian Army provides excellent opportunities for education and skill development. They offer specialized training in various fields, including technology, medicine, and engineering.
Respect and Recognition: Soldiers are highly respected in society for their sacrifices and service. This recognition and honor can be a motivating factor for many who wish to be part of an esteemed institution.
Travel and Exposure: The Army often involves postings in different parts of India and sometimes abroad, which allows soldiers to explore diverse cultures and gain exposure to different environments.
Healthcare and Benefits: The Indian Army provides comprehensive healthcare benefits to its personnel and their families. This includes medical facilities and insurance coverage.
Retirement Benefits: The retirement benefits in the Indian Army are substantial, ensuring financial security for veterans after their service.
Family Tradition: Some individuals come from families with a tradition of military service. Continuing this tradition can be a source of pride and honor.
Global Peacekeeping: The Indian Army also participates in international peacekeeping missions under the United Nations, providing an opportunity to contribute to global peace and stability.
Frequently Asked Questions :-
1. What are the eligibility criteria for joining the Indian Army?
Answer: The eligibility criteria can vary depending on the entry scheme, but some common requirements include:
Nationality: You must be an Indian citizen.
Age: The age limit varies for different entry levels, but it typically falls between 17.5 and 24 years.
Educational Qualifications: You need to have completed your 10+2 education for most officer-level positions. For technical roles, a degree in relevant fields may be required.
2. How do I apply to join the Indian Army after Graduation ?
Answer: To apply, you can visit the official website of the Indian Army (www.joinindianarmy.nic.in) and follow the application process for the specific entry scheme you are interested in. The application process typically includes online registration, written tests, physical fitness tests, and interviews.
3. What is the training process like for Army recruits?
Answer: The training process in the Indian Army is rigorous and comprehensive. It includes physical fitness training, weapon handling, tactical exercises, leadership development, and specialized training for specific roles. The duration and intensity of training can vary based on the entry level and role.
4. What career opportunities are available in the Indian Army after Graduation ?
Answer: The Indian Army offers a wide range of career opportunities in various branches, including infantry, artillery, engineering, medical, intelligence, and more. Additionally, there are opportunities to specialize in fields like aviation, cyber warfare, and logistics. The Army provides avenues for career progression and promotions.
5. What benefits do Indian Army personnel receive?
Answer: Indian Army personnel receive several benefits, including a competitive salary, healthcare for themselves and their families, subsidized housing or accommodation, retirement benefits, and access to educational opportunities. Soldiers also receive additional allowances based on their postings and responsibilities, making it a financially secure career choice.