Another MKCian Selected in NDA 148
Major Kalshi classes congratulate Mr- Abhay on the selection for the NDA examination, He is a student of MKC. We continually provide maximum no of selection in the defence examination like NDA, CDS due to our planning and strategy of teaching.
Success Story of Abhay
Mr- Abhay is a brilliant student and his aim was clear the crack the NDA examination, that's why he joined the Major Kalshi Classes in the preparation for NDA. He found it very useful and gave credit to the MKC faculty for his success, But we believe that his hard work and our strategy make him achieve this milestone.
About NDA Exam:-
The NDA Exam is conducted for the selection of the officers into the Indian Armed forces. Through the NDA Entry, One can join the Indian Army, Indian Navy and Indian Air force etc. There are rounds of selection that one has to clear to be considered for selection in the service. The Exam is conducted at the National Level and one needs to join the Top NDA Coaching in India that could help you in your preparation and make you able to clear the NDA Examination. Here are the exam details of the NDA Entry:
| | |
| --- | --- |
| Name of Exam | National Defence Academy |
| Conducting Body | Union Public Service Commission |
| Periodicity | Twice a year |
| Exam Level | National |
| Mode of Application | Online |
| Mode of Exam | Offline |
| Exam Rounds | 3 Stages (Written + SSB + Medical) |
| Expected Candidates | 2 lakhs approx. |
| Available Seats | 400 |
| Job Location | Across India |
| Official Website | www.upsc.gov.in |
In order to apply for the NDA Entry, There are some required eligibility criteria that are mandatory to have in every manner. Here are the details of the NDA eligibility criteria: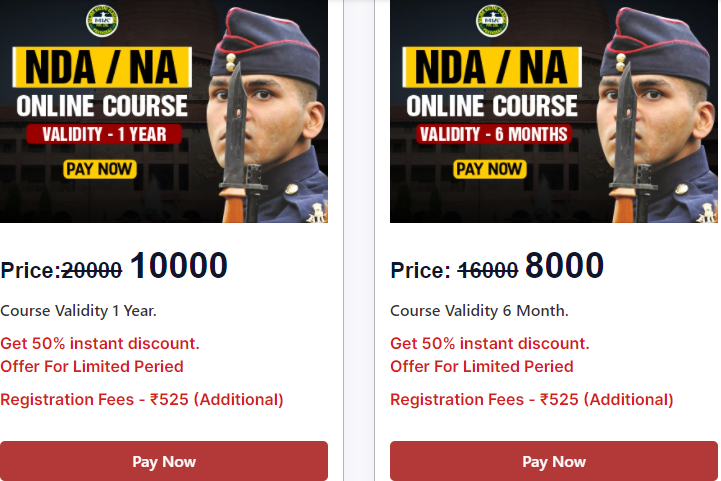 Best NDA Coaching In India:
Male and Female candidates are eligible to apply for the course.
Educational Qualification: A candidate must have passed class 12th with physics, chemistry and mathematics etc.
There are no marks criteria to appear for NDA Exam. One just needs to have passed class 12th with good marks.
Age Limit: The age of the candidate must be between 16.5 years old to 19 years old.
The Educational Qualification and age limit criteria would be the same for all in every manner. There is no relaxation has been given to any candidate regarding anything.
Medical and Physical: A candidate must be medically and physically fit in every manner.
These are the criteria that are required to have to apply for the NDA Entry. The NDA stands for National Defence Academy which basically trains the candidates for three years and makes them able to join the Indian Armed Forces as an Officer. Well, the preparation must be at best to clear the selection phase in a first attempt. Join the NDA Coaching Institute in India that could train, and prepare you in a better manner to clear the examination. Here are the selection phases that one has to clear.
NDA Selection Process :
Every phase of the NDA selection round is mandatory to clear for every candidate. Here are the rounds of selection that one has to clear:
Written Exam by Union Public Service Commission (UPSC)
SSB Interview (Service Selection Board) etc.
Medical tests etc.
The final selection is done on the basis of the marks scored in the NDA Written Examination and SSB Interview etc. You have to perform better in both (Written Exam & Interview) to clear the All India Merit List. Here are details about the NDA Written Exam.
NDA Written Exam Paper Pattern:
| | | | |
| --- | --- | --- | --- |
| Papers | Subject | Maximum marks | Duration |
| Paper 1 | Mathematics | 300 | 2 ½ |
| Paper 2 | GAT | 600 | 2 ½ |
| Total | | 900 | 5 hours |
All the questions would be asked in objective type with multiple choice answers.
Language of Paper: Hindi and English.
For Mathematics: One will be given 2.5 marks for each right answer.
For GAT: One will be given 4 marks and each right answer.
There is a negative marking on both papers, 0.33 marks will be deducted for each wrong attempt.
Join the Coaching Institute that could easily train and educate you for the exam and make you able to clear the written exam in the first attempt. For the best education, you must join the Best NDA Written Exam Coaching in India, the Major Kalshi Classes that train the student's in an easy and effective manner. The Major Kalshi Classes is known for providing the best education and training for the NDA Exam. It becomes easy for one to get prepared well for the exam with us.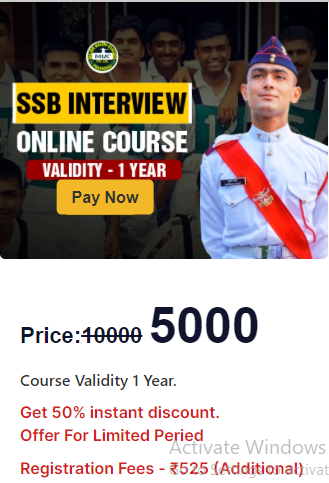 Major Kalshi Classes For NDA Preparation:
The Major Kalshi Classes is a reputed institute for defence exam preparation. Our Institute is known for giving maximum selection in the field of defence every year and we also hold the position of Top NDA Coaching Center in India. We have a team of Ex-Defence Examiners, Qualified teachers and Ex-SSB Interviewers for the training and education. It becomes easy for one to get trained under the best staff. There is nothing that we left in the NDA preparation, our team will prepare you, and guide you in every manner to clear the NDA Selection Phases.
Join MKC for the SSB Preparation:-
Major Kalshi Classes prepare students for the SSB Interview in less than a month, with training provided by ex-SSB interviewers and defence officers, among others. It is simple for every applicant to receive excellent training at MKC. Join a reputable SSB Coaching Institute in India to be well-trained in all areas and pass the interview.
MKC 14 Days SSB Training Details at MKC:
| | |
| --- | --- |
| Days | Details |
| DAY – 1 | Introduction to SSB(5 days SSB Procedure, Officer Like Qualities & PIQ form) |
| DAY – 2 | Screening |
| DAY – 3 | Screening test, Mock practice and Feedback |
| DAY – 4 | Introduction to Psychological Test & Thematic Apperception Test |
| DAY – 5 | Word Association Test & SRT (Situation Reaction Test) |
| DAY – 6 | Self Description Test & Complete Psychological Test and Feedback |
| DAY – 7 | OIR, (Verbal and Non-verbal Reasoning class) |
| DAY – 8 | Personal Interview Briefing |
| DAY – 9 | Mock Interview & Feedback to Student |
| DAY – 10 | Mock Interview & Feedback to Student |
| DAY – 11 | G.T.O. Briefing, GD and Lecturette |
| DAY – 12 | P.G.T, H.G.T, G.P.E, & G.O.R. |
| DAY – 13 | IO, CT, FGT and Conference |
| DAY – 14 | CPSS TEST |
You can Avail our Service:-
For purchasing any books for defence examination- Click Here
For Joining Test Series- Click Here
For Online Course at MKC Learning App- Click Here
Visit our YouTube Channel For Free Education:- Click Here
This is all about the Another MKCian Selected in NDA 148 . If you guys want to serve the nation and want to clear the Defence examination, join Major Kalshi Classes, Here we have experienced faculty for all the subjects. For more inquiries, you can call us at 9696220022 and 9696330033 or go to our official website www.majorkalshiclasses.com. Thank you.