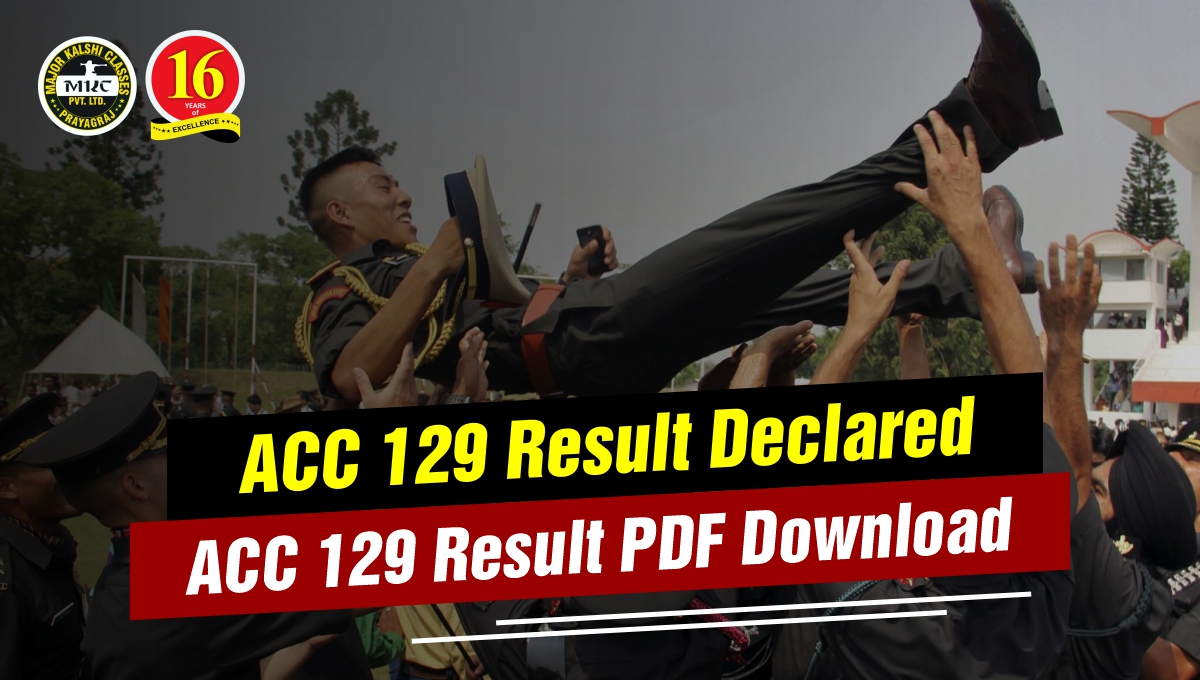 ACC 129 Result Declared, ACC 129 Result PDF Download | Army Cadet College
ACC 129 Result Download : Army Cadet College 129 Course result is out now. All Armed Forces Soldiers who have opted to become Officer in Indian Armed Forces can now and have appeared in ACC 129 Exam can now check their result. Army Cadet College 129 course result is out now and now selected candidates will move for SSB Interview. In this blog, we will know more about ACC 129 Exam Result ,ACC 129 Cutoff marks and SSB Interview . If you want to start preparation for ACC 130 Exam , Join Major kalshi Classes – Best ACC Coaching in India.
What is Army Cadet College Exam ?
The Army Cadet College stands as a beacon of excellence in grooming future leaders of the military. Established with a mission to nurture young minds into capable and disciplined officers, the college has been an instrumental stepping stone for countless individuals aspiring to serve their country with valor and honor. Securing a spot at the Army Cadet College requires determination and preparation. The college looks for candidates who exhibit a combination of intellectual prowess, physical fitness, and a resolute spirit. The admission process encompasses rigorous evaluations, including written exams, interviews, and physical fitness assessments. Only those who showcase exceptional qualities and potential make the cut.
The journey at Army Cadet College goes beyond conventional academics. Cadets are immersed in a holistic learning environment, where they not only acquire military skills but also develop as well-rounded individuals. Physical fitness, leadership skills, camaraderie, and a strong sense of discipline are ingrained into the cadets' personas.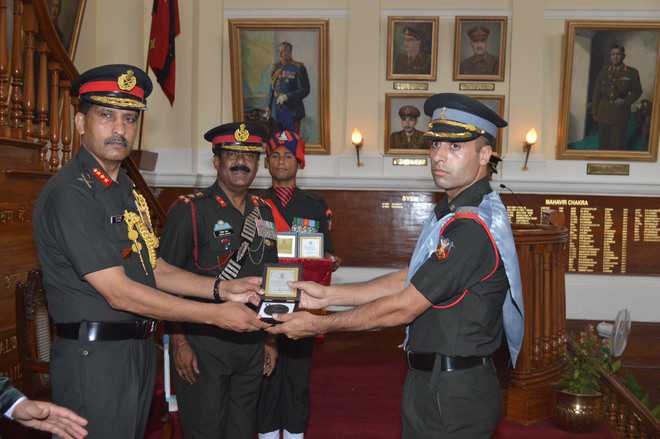 Graduating from Army Cadet College opens doors to a plethora of opportunities. Cadets emerge as officers in the armed forces, equipped with the knowledge, skills, and values necessary to lead troops effectively. Moreover, the training received at the college serves as a solid foundation for pursuing advanced courses and taking on specialized roles within the military hierarchy.
ACC 129 Exam Result Download :-
ACC 129 Exam is available to download from this article. Candidates can look in the table below and download the ACC 129 Exam Result .
| | |
| --- | --- |
| ACC 129 Exam | Important Dates |
| ACC 129 Application Begins | 9th Jan2 023 |
| ACC 129 Exam Date | 1st August 2023 |
| ACC 129 Result Date | 30th August 2023 |
| ACC 129 Result Download | Click Here |
| ACC SSB Coaching | Join Now |
How to Download ACC 129 Official Result ?
Downloading ACC 129 Result is now simple and this process is now open for every ACC Aspirants . Here we have provided some easy steps to Download ACC Exam Result :-
1 : To Download , ACC Official Result Visit Major kalshi classes – https://majorkalshiclasses.com
2 : On the homepage , Visit the 'Notification' tab.
3 : In the Notification tab in the Homepage , Check ACC 129 Result Section.
4 : Download ACC 129 Exam Pdf .
How to Calculate ACC 129 Exam Marks ?
The ACC Exam Answer Key will come out after the written exam. To see how many marks you got, do these things:
Get the ACC Exam answer key from the Indian Army's official website.
Look at your answers and compare them to the ones in the answer key.
Give yourself the points they said for every right answer.
Take away the points they said for every wrong answer according to the ACC Exam Pattern rules.
Put together all the points to know around how many marks you might have gotten.
ACC 129 Exam – Cutoff Marks
Now ACC 129 Exam is over and result has also been published. Candidates are now constantly asking for ACC 129 Cutoff Marks. Here we have provided insights regarding ACC 129 Exam Cutoff Marks .
Although ACC Exam Cutoff marks is not publicly disclosed, But there is an idea about the Cutoff Marks . This time , ACC 129 Exam Cutoff Marks is around 133 Marks .
Total 3021 Candidates have qualified ACC 129 Written Exam and now they will move for next stage SSB Interview . The Top 500 Candidates will move for Young Leadership Course (YLC).
What is Young Leadership Course in ACC SSB Interview ?
As you know, there are 75 vacancies in ACC entry every year, but all these posts are never filled, because OLQ's are not available in the Soldiers who go for SSB, that's why the Indian Army has decided to help those candidates. Whose rank comes in the top 500. All Army Navy Airforce Soldiers can give ACC Exam but only Army Soldiers are selected for YLC.
That's why the top 500 candidates of the army are selected in the result, irrespective of their rank, if they come in the top 500 in the army category, then they will definitely be sent for YLC. In this way, getting selected in YLC course has its own advantage, that is why all the candidates who are currently preparing for ACC 130, they will have to rank in Top 500 in any case, only then they will get the benefit of YLC.
Leadership in Soldiers in the YLC Course. Skills like communication, team-building are developed. The duration of training in YLC course is 18 months and every soldier is sent to OTA Chennai like an attachment and even during this period he continues to get salary.
How many Candidates are sent for YLC Course ?
First of all all Top 500 Candidates will have to undergo a Screening Test, in this Screening Test OIR – 100 Marks and PPDT 150 Marks comes and the candidates who will come in Top 100 Rank in this Test will be finally sent for YLC.
The process of Screening Test for YLC of ACC 129 will start from the month of April and top 500 candidates of Screening Test will be sent for YLC.
Join Major kalshi Classes for ACC SSB Interview Preparation ?
Major Kalshi is Best SSB Interview Coaching in India. Having a glorious history of 16 years, MKC has guided over 10,000 SSB Aspirants to crack SSB Interview and join the esteemed Indian Armed Forces. Here at MKC, we believe in polishing the OLQ's & nurturing candidates to grow at that level which is required in SSB Interview. Our Assessors not only provide them best knowledge of SSB tasks but give them personal assessment and feedback also. Now let us look at some key factors which shows that MKC is best SSB Interview training institute: –
Guidance of Best Mentors for every task and personal feedback with assessment.
Biggest GTO Ground with all outdoor GTO task at MKC GTO Ground.
Daily Group Discussion & Lecturette sessions to Improve speaking ability.
Multiple Mock Interview sessions by Interviewing officers.
Psychological Test and the feedback of dozier.
Daily OIR & PPDT Sessions to Improve Reasoning Ability & Improving Communication skills.
Best Library facility for all around development of Candidate personality.
State-of-the-art separate hostel facility for Boys & Girls.
Frequently Asked Questions :-
Q: What is the Army Cadet College (ACC) Exam? Ans: The Army Cadet College (ACC) Exam is a test conducted by the Indian Army to select candidates for admission to the Army Cadet College. It's a way for soldiers to become officers in the Indian Army.
Q: Who can apply for the ACC Exam? Ans: Soldiers who meet the eligibility criteria set by the Indian Army can apply for the ACC Exam. They should fulfill the educational and service-related requirements.
Q: What is the selection process for the ACC Exam? Ans: The selection process for the ACC Exam typically involves a written exam, followed by an interview and medical examination for those who qualify the written test. The final selection is based on the candidate's performance in all these stages.
Q: Is there a negative marking in the ACC Exam? Ans: Yes, there is usually a negative marking scheme in the ACC Exam. Marks are deducted for incorrect answers, so it's important to answer carefully.
Q: When will the ACC Exam Answer Key be released? Ans: The ACC Exam Answer Key is usually released after the written exam has taken place. It is published on the official website of the Indian Army. You can download it from Major kalshi Classes.
Q: What is the role of the Army Cadet College? A: The Army Cadet College trains soldiers and ex-servicemen to become officers in the Indian Army. It provides them with the necessary education and training to take on leadership roles.