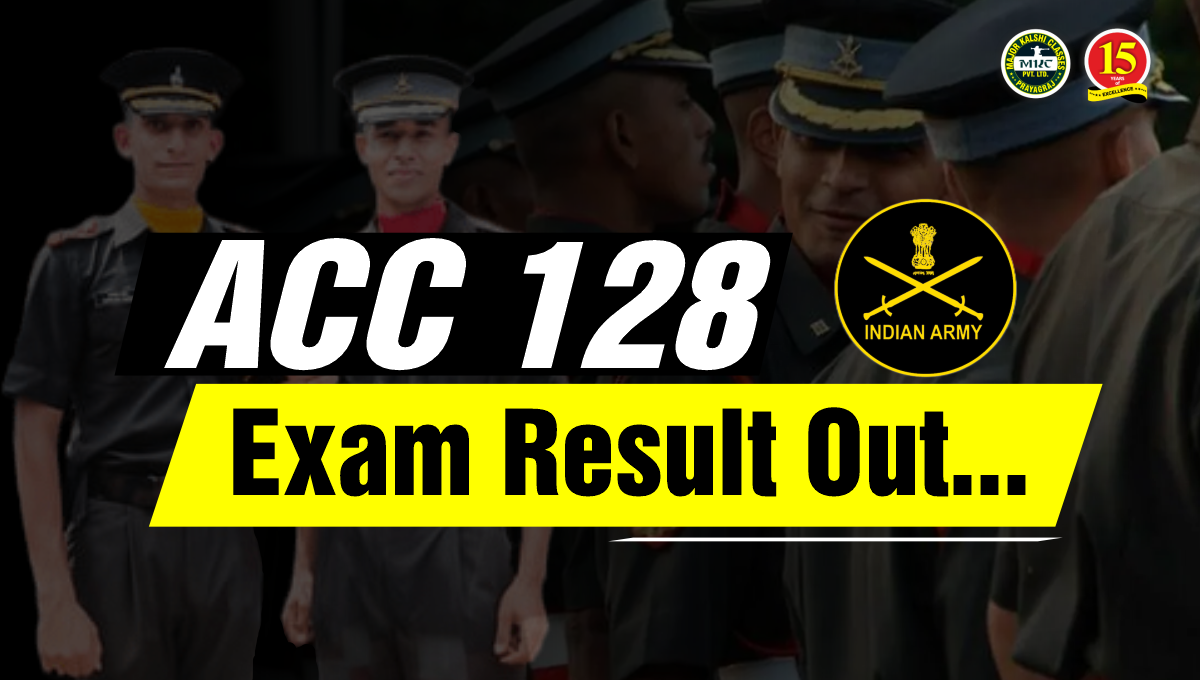 The Army Cadet College (ACC) is a military institution in India that trains officers for the Indian Army. The ACC conducts an entrance exam for candidates who wish to pursue a career as an officer in the Indian Army. Indian Army has released the ACC 128 result, and you can download the ACC Result pdf form the below link. So scroll below to find the ACC Exam result.
ACC 128 Result Out:-
Typically, the Indian Army or the ACC will publish the exam results on their website or notify candidates through other means, such as email or SMS. You may also be able to check your result by entering your roll number or registration number on the official website.
If you are having trouble finding your result or have any questions about the exam, I recommend reaching out to the Indian Army or for assistance.
The exam consists of multiple-choice questions in subjects such as Mathematics, General Knowledge, and English. Candidates who pass the written exam are then required to appear for a Service Selection Board (SSB) interview, which evaluates their physical fitness, aptitude, and leadership skills.
ACC 128 Cut off:-
The cut off for Army Cadet College entrance exam can vary from year to year depending on various factors such as the number of vacancies, the number of applicants, and the difficulty level of the exam.
Additionally, the cut off may also vary depending on the category of the candidate (such as General, OBC, SC, ST, etc.), as different categories may have different cut off scores.
It is best to refer to the official website or notification of the Army Cadet College entrance exam for the latest information on the cut off scores. The cut off scores are usually announced after the declaration of the results.
SSB Interview
SSB Interview Schedule
Day 1 (Stage I)
Intelligence testPicture Perception & Discussion TestCandidates who clear this stage have to appear for Stage II
Day 2 (Stage II)
Psychological testGroup taskPersonal Interview
Day 3
GTO test
Day 2- 4
Interviews
Day 5
Conference
After ACC Result:-
Candidates who successfully clear the written exam and SSB interview are then admitted to the ACC for a two-year training program. The training program consists of academic coursework, physical fitness training, and leadership development.
Upon successful completion of the training program, cadets are commissioned as officers in the Indian Army. The ACC exam is a highly competitive and rigorous process, and candidates must be prepared to work hard and meet the high standards set by the Indian Army.
If you are interested in pursuing a career as an officer in the Indian Army and want to know more about the ACC exam, I recommend visiting the official website of the Indian Army or the ACC for detailed information about the exam and the application process.
Best ACC Entry Books:-
If you are looking for books related to Army Cadet College, here are some recommendations:
| | |
| --- | --- |
| Name of the Book | Click to Buy Online |
| Best ACC Books – All Subjects | Buy Now |
| Best ACC Books – ACC Arithmetic | Buy Now |
| Best ACC Books – ACC Objective General English | Buy Now |
| Best ACC Books – ACC General Knowledge | Buy Now |
| Best ACC Books – ACC General Science | Buy Now |
| Best ACC Books – ACC Reasoning | Buy Now |