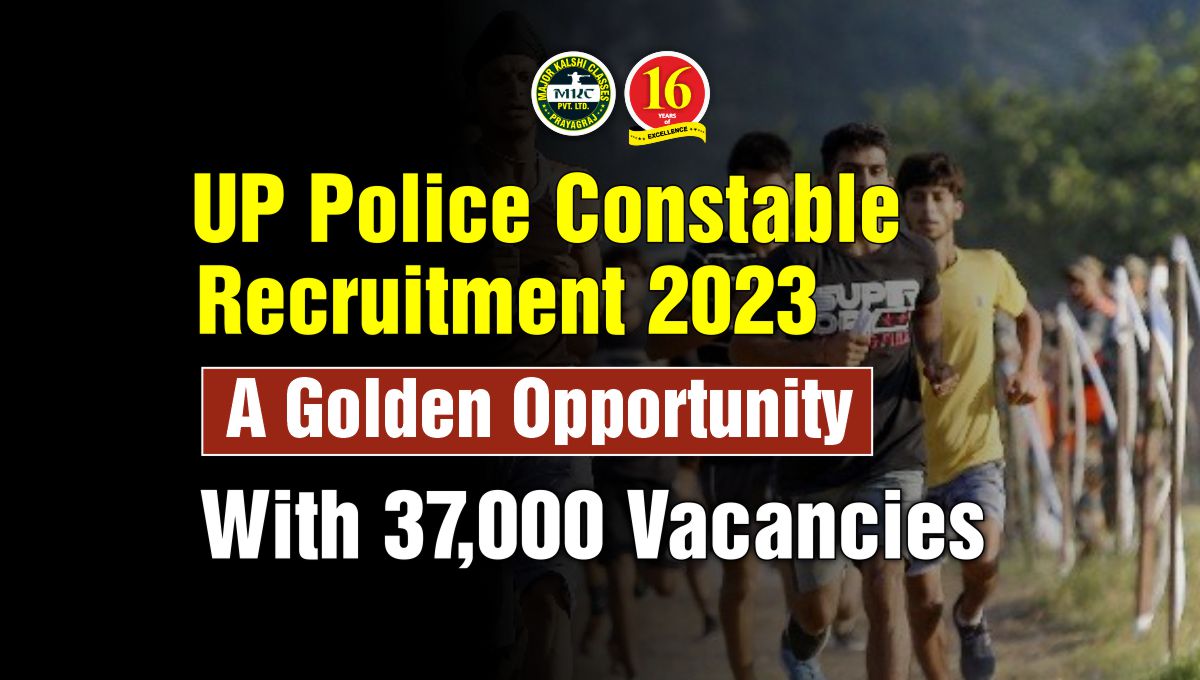 UP Police Constable Recruitment 2023: A Golden Opportunity with 37,000 Vacancies
The Uttar Pradesh Police Recruitment and Promotion Board (UPPRPB) has recently announced a massive recruitment drive for the position of Constable in the Uttar Pradesh Police Department. With a staggering 37,000 vacancies to be filled, this recruitment presents a golden opportunity for aspiring candidates to join the esteemed police force of Uttar Pradesh. This article aims to provide an overview of the UP Police Constable Recruitment 2023 and shed light on the eligibility criteria, selection process, and benefits of this coveted position.
UP Police Constable Recruitment 2023
The UP Police Constable Recruitment 2023, offering a whopping 37,000 vacancies, presents a remarkable opportunity for individuals aspiring to serve in the police force. With a stringent selection process and attractive benefits, the position of constable in the Uttar Pradesh Police Department offers job security, a competitive salary, and a chance for career growth. Interested candidates are advised to review the official recruitment notification and start their preparations to secure a position in one of the largest police forces in India.
Eligibility Criteria:
To be eligible for the UP Police Constable Recruitment 2023, candidates must meet certain criteria set by the UPPRPB. The basic requirements include:
Age Limit: The minimum age of the applicant should be 18 years, while the maximum age limit is set at 22 years for male candidates and 25 years for female candidates. Relaxation in the upper age limit is provided for reserved category candidates as per government norms.
Educational Qualifications: Candidates should have completed their 10+2 (or equivalent) from a recognized board or institution. Further details regarding specific educational requirements can be found in the official recruitment notification.
Physical Standards: Applicants must meet the prescribed physical standards in terms of height, chest measurements, and other parameters as specified by the UPPRPB.
Selection Process:
The selection process for UP Police Constable Recruitment 2023 involves multiple stages, designed to assess the candidates' physical fitness, knowledge, and aptitude. The process includes:
Written Examination: Candidates have to appear for a written examination comprising objective-type questions to evaluate their knowledge of subjects such as General Awareness, Reasoning, Numerical Ability, and General Hindi. The exam will be conducted in both English and Hindi.
Physical Efficiency Test (PET): Shortlisted candidates from the written examination undergo a physical efficiency test, which includes tasks like running, long jump, and high jump. The PET aims to assess the candidates' physical endurance and fitness.
Document Verification: Successful candidates from the PET are required to submit their documents for verification, including educational certificates, age proof, caste certificate (if applicable), and other relevant documents.
Medical Examination: Candidates who pass the document verification stage undergo a thorough medical examination to ensure they meet the required medical standards for the job.
Final Merit List: The final selection is based on the combined performance of the candidates in the written examination, PET, document verification, and medical examination. A merit list is prepared, and candidates are allotted positions based on their rankings.
Benefits and Career Growth:
Joining the UP Police as a constable offers numerous benefits and a promising career path. Some of the advantages include:
Job Security: A career in the police force provides stability and job security, ensuring a steady income and various allowances.
Attractive Salary and Perks: Constables receive competitive salaries along with allowances for housing, healthcare, and other benefits.
Growth Opportunities: The UP Police Department provides ample opportunities for career growth and promotions through departmental exams and internal assessments.
Salary of UP Police Constable:-
The salary of a UP Police Constable is based on the Pay Band-1 of the 7th Pay Commission. Here is a breakdown of the salary structure:
Pay Scale: The pay scale for the position of Constable ranges from Rs. 21,700 to Rs. 69,100.
Basic Pay: The basic pay for a Constable is initially set at Rs. 21,700.
Grade Pay: There is no separate grade pay for the position of Constable.
Allowances: In addition to the basic pay, constables are entitled to various allowances such as Dearness Allowance (DA), House Rent Allowance (HRA), Medical Allowance, Travel Allowance, and more. These allowances may vary based on the place of posting and other factors.
Join MKC for UP Police Constable preparation:-
Joining Major Kalshi Classes (MKC) for UP Police Constable preparation can be a beneficial decision for candidates aiming to excel in the recruitment process. MKC is a reputed coaching institute known for its comprehensive training programs and experienced faculty. Here are some reasons why joining MKC can be advantageous:
Expert Guidance: MKC provides expert guidance from experienced faculty members who are well-versed in the UP Police Constable exam pattern, syllabus, and selection process. They can offer valuable insights, shortcuts, and strategies to enhance your preparation and maximize your chances of success.
Comprehensive Study Material: MKC offers well-researched and comprehensive study material that covers all the subjects and topics relevant to the UP Police Constable exam. The study material is designed to help candidates grasp concepts easily and strengthen their knowledge base.
Mock Tests and Practice Papers: MKC conducts regular mock tests and provides practice papers to simulate the exam environment. This allows candidates to assess their performance, identify their strengths and weaknesses, and work on improving their time management skills.
Physical Fitness Training: Along with academic preparation, physical fitness is crucial for the UP Police Constable recruitment. MKC provides physical fitness training sessions to help candidates improve their endurance, stamina, and overall fitness level required for the physical efficiency test.
Doubt Clearing Sessions: MKC offers doubt clearing sessions where candidates can seek clarification on any topic or concept that they find challenging. These sessions ensure that candidates have a strong foundation in all subjects and can overcome any doubts or queries they may have.
Current Affairs and General Awareness Updates: Keeping up with current affairs and having a strong general awareness is essential for the UP Police Constable exam. MKC provides regular updates on current affairs, conducts quizzes, and offers guidance to help candidates stay updated with the latest happenings.