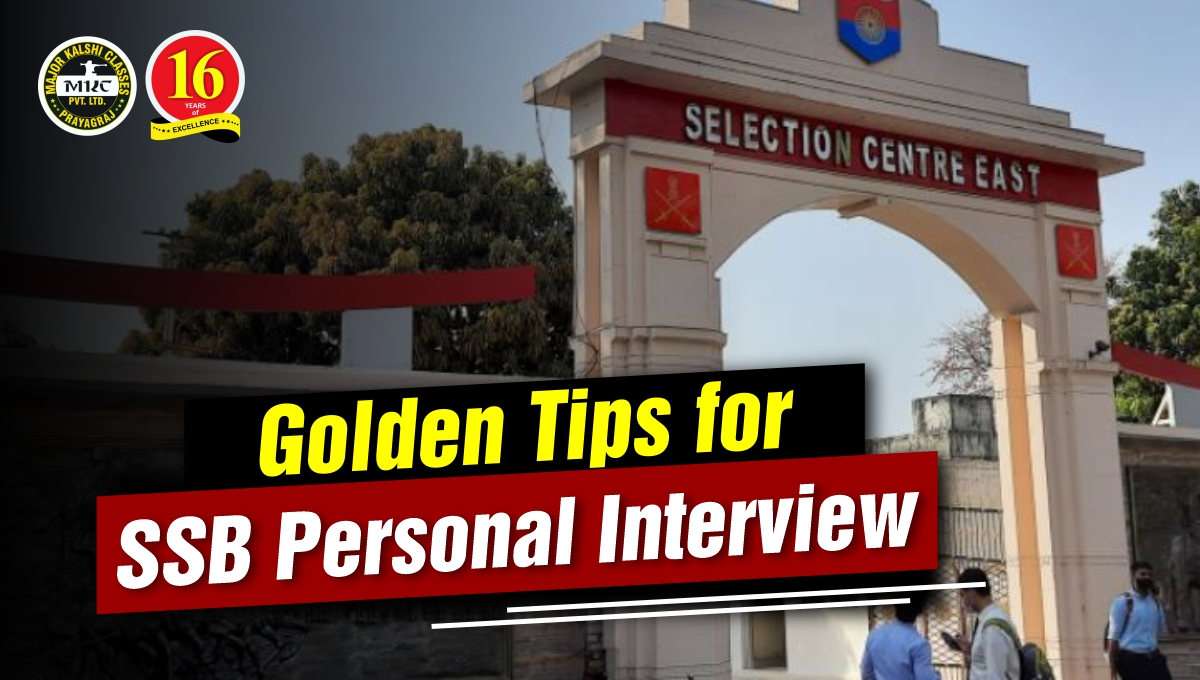 Golden Tips for SSB Personal Interview
Jai Hind SSB Aspirants ! SSB Interview of Various Exams are well scheduled in future . Exams Like – NDA/CDS/AFCAT/ARMY TES/NAVY 10+2 B.Tech Entry/SSC Tech/NCC Spcl Entry . From all those Entries , through which candidate aspire to become officer in Indian Armed Forces SSB Interview plays a vital role . Qualifying the SSB Interview and getting their name in the merit list is most important part of the whole Selection Process . During the 5 Days-SSB Procedure Personal Interview has its very important role of its own . But During the PI Round , Candidates fail to answer the questions by assessor which leads to their rejection . In this Article , we shall know some Golden Tips for SSB Interview which will sure help you to Qualify it . For Best SSB Interview Guidance . Join Major kalshi classes – Best SSB Interview Coaching in Allahabad
What is SSB Interview ?
SSB Stands for Service Selection Board. SSB Interview is a 5 Day Testing Procedure in which Candidate's Officer Like Qualities(OLQ's) are assessed. The interview spans for 5 days during which various tests are conducted to test the qualities and personality of the candidates. SSB interview has a pattern and procedure wherein the tests are conducted in a manner to reflect the actual personality and psychology of the candidate. Testing Procedure of SSB Is Based on three principles :- MANSA-VACHA-KARMANA . Once Qualifying the SSB Interview Candidate will move further in the Selection Procedure . For Qualifying the SSB , you need to get some efficient ssb tips . Further in this article , we sill share some best ssb tips with you which will sure help you to get recommendation .
Best SSB Tips to Prepare for Army TES 50
SSB Interview 5 Days Procedure :-
SSB Interview test is conducted for 5 Days . There are several Selection Centre's where candidates have to appear for the test . The 5Day SSB Procedure Consists of Basic Screening Test, Psychological Test , Personal Interview , GTO and Conference .
Day 1 :- Basic Screening Test (It Consists of Officer's Intelligence Rating Test(OIR) and Picture Perception & Description Test(PPDT)
Day 2 :- Psychological Tests and Interview ( Thematic Apperception Test (TAT), Word Association Test (WAT),Situation Reaction Test (SRT), Self-Description Test (SDT) and Interview of some candidates by President/Deputy President.
Day 3:- GTO Tasks and Interview ( Group Discussions (GD), Group Planning Exercise (GPE), Progressive Group Task (PGT), Group Obstacle Race /Snake Race (GOR), Half Group Task (HGT) and Interview of some candidates by President/Deputy President.
DAY 4 :- GTO Tasks and Interview( Individual Obstacles (IO), Lecturette, Command Task (CT), Final Group Task (FGT) and Interview of the remaining candidates.
DAY5 :- Final Board Conference
Final Board conference is held and the results are announced. Each candidate appears for a
couple of minutes before the entire board assembled in the conference room. Here he is asked a
few general questions. Those who are selected are asked to stay for 4 to 5 days for their medical.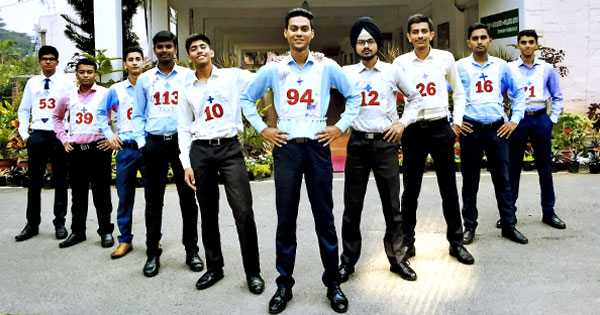 What is a Personal Interview ?
The aim of an interview at the SSB is to access the leadership or Officer Like Qualities of the candidate by means of a directed or purposive conversation between the candidate and the Interviewing Officer (IO).
The Personal Interview is the assessment of the candidate by the Interviewing Office (IO), usually in the rank of colonel i.e. who is the President or Deputy President of the board. The IO reads well the PIQ filled by the candidate, before the candidate is called inside the room. Thus the IO cross checks the information given by the candidate in the PIQ by triggering some basic questions, and also triggering a series of questions at a stretch which are called as Rapid Fire Questions (RPF). Download SSB PIQ Form .
Importance of PIQ Form :
PIQ or Personal Information Questionnaire is the question bank for your Interview, Most of the questions will be asked by the Interviewing Officer will be based on your PIQ details; they might be directly or indirectly related to your PIQ Form .
Types of Questions Asked During PI
INTRODUCTORY QUESTIONS OR CALM DOWN QUESTIONS
Usually these types of questions are put to the candidates immediately after their entry into the room. The IO asks some basic questions which can be easily answered by the candidate and the candidate feels at ease with the IO.
These questions may be :
(a) Which place you are coming from and tell me something about that place?
(b) Tell me something about your name and what is the meaning of your name
PERSONAL QUESTIONS
Personal Questions are those questions which are directly related to you, and to those questions the best person to give the answer is you. These questions may vary for candidate to candidate but generally are in same line so you must introspect yourself to answer these questions .
(a) Meaning of Father's/Mother's/Siblings/Your Own Name.
(b) Details about your religion and cast if you are strong follower to these things.
(c) Do you have a Girl Friend if yes then ready for follow up questions and if No then why you don't you have one.
QUESTIONS ABOUT FAMILY BACKGROUND
(a) How much pocket money did you get in your college days and how much of it you could use?
(b) Did you help your mother and father during your holidays?
(c) You are close to, father or mother, and why?
QUESTIONS ON EDUCATIONAL BACKGROUND
(a) How much did you score in your tenth, twelfth and graduation?
(b) Why is there decrease in the marks level and what did you do to overcome the weak areas?
(c) Which subject did you like more and why?
QUESTIONS ABOUT FRIENDS
(a) How will you find new friends?
(b) What type of people you want to be friendly with?
(c) How many friends do you have?
(d) Out of these friends how many are close to you?
QUESTIONS ON HOBBIES AND INTERESTS
(a) What is your hobby?
(b) Why you have chosen this hobby?
(c) For how long are you pursuing this hobby?
(d) What are the things that you have learnt from your hobby?
QUESTIONS ON GAMES AND SPORTS
(a) Which games do you like and why?
(b) Why you have chosen an indoor game rather than an outdoor game?
(c) Why you have chosen an outdoor game rather than an indoor game?
(d) What is your position in the team i.e., as a team member or a captain do?
QUESTIONS ON CO-CURRICULAR AND EXTRA-CURRICULAR ACTIVITIES – The Co-curricular and Extra- curricular activities include such as N.S.S., N.C.C, Volunteer of blood donation association, Friends of Police etc.
(a) Why did you join N.C.C. / N.S.S.?
(b) What do you achieve by joining that activity?
(c) Positions held in that organization?
(d) Grade of certificates got, such as A, B, C etc.
(e) Who motivated you to join the N.C.C. /N.S.S. etc?
Do's & Don'ts of Personal Interview
Look smart, cheerful and enthusiastic.
Enter the room with head held high and up righted chest as this gives you a confident look.
Never put your hands into your pocket leave out casually.
First impression is very important
Prefer a formal dress of good quality and properly ironed.l
Wear formal shoes.
Have proper hair cut before the interview and comb your hair well.
Wish the I.O while entering the room.
Never raise your voice tone while telling about your achievements or reduce your voice tone while telling about your negative points. Have logical answers for your positive and negative points. Adopt a proper body language.
Never argue with the I.O.
Understand the questions clearly and answer that question slowly and confidently.
Be audible but not too loud and appear keen to speak and respond to questions.
Sit straight and comfortably, do not fidget, do not keep moving your hands and legs as it may distract the interviewer from your responses. If you have not understood anything politely ask for clarification or to repeat the question. You are expected to be aware so as to touch upon current events if asked.
If you feel that you don't know the answer, just say after thinking a while, sorry sir I don't know the answer. In case, if you didn't get the question ask him by saying, Sorry sir, I beg your pardon, please repeat the question.
Never blame anyone for your shortcomings such as low marks due to teacher etc. Since they don't want people who blame others for their shortcomings. They want people only who take every situation positively and try to overcome the shortcomings with hard work.
Don't bluff to the I.O and be honest to yourself and the I.O. If you have those OLQ's, surely the I.O will take you in.
If you are a SSB Aspirant and want sure recommendation in upcoming SSB Interview then join Major kalshi Classes – Best SSB Coaching in India . Major Kalshi Classes provides 14 Days SSB Interview Training program in which BST(Basic Screening Test), Psychological Test, Personal Interview, GTO, and Conference training along with daily General Awareness and Personality Development classes are included. The Complete Training is governed by Retd. Officers and Defence experts. So if you want to crack SSB Interview, then Major Kalshi Classes is the real gateway and will provide you a road map to successfully crack SSB.