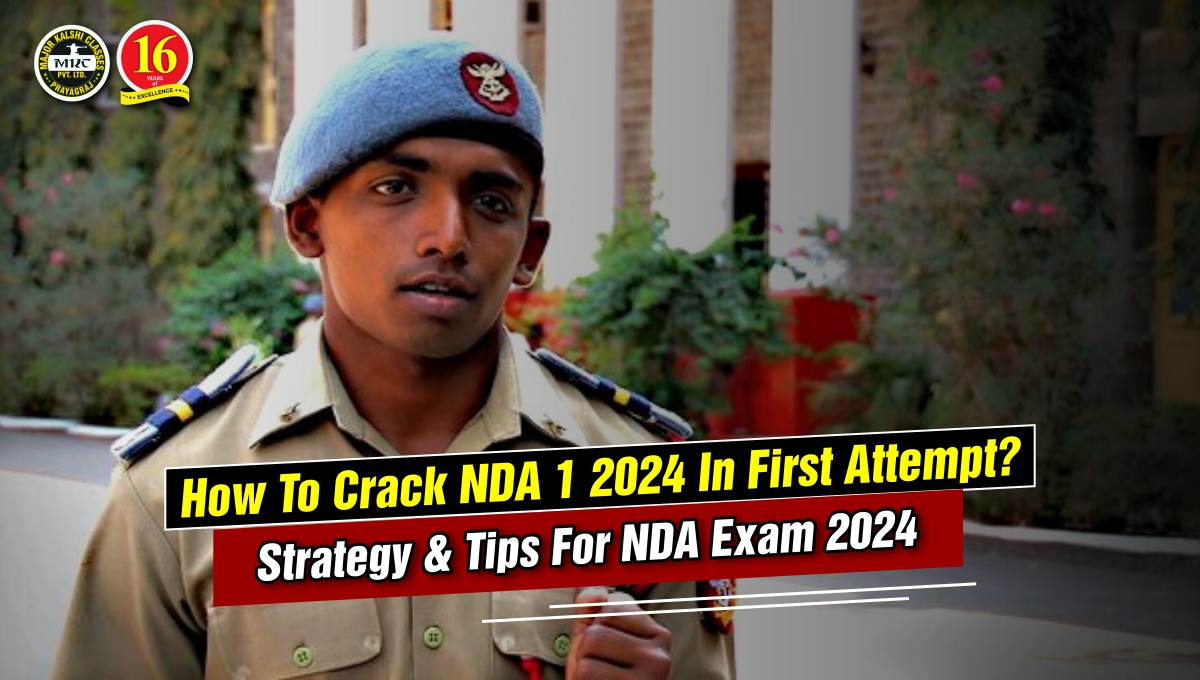 How to Crack NDA 1 2024 in First Attempt ? | Strategy to Crack NDA Exam in the first Attempt, Tips for NDA Exam 2024
Tips for NDA 1 2024Exam : NDA 1 2024 Exam is well scheduled on 21st April 2024 Exam. Candidates who are preparing for NDA 1 2024 Examination are waiting for Best Strategy to Crack NDA 1 2024 Exam . In this blog , we shall discuss Tips for NDA Exam 2024.
How to Crack NDA 1 2024 Exam :
Getting into the National Defence Academy (NDA) on your first try is not easy. It needs a lot of hard work and focus. The NDA exam is a big deal in India, as it's the way to join the Indian Army, Navy, or Air Force.
But passing this exam on your first try is a big deal, and it takes smart preparation. Many people want to succeed in the NDA exam, but only a few actually do it. Some might need to try multiple times before they pass, while others do it on their first attempt. So, the question is, how can you pass the NDA exam on your first try?
How to Crack NDA 1 2024 in First Attempt ?
Getting ready for the UPSC NDA Exam is all about paying close attention to the entire selection process. The most important part is understanding what's in the NDA Syllabus and how the exam is structured. This is vital for anyone who wants to pass the NDA Exam on their first attempt.
To do this, you need to use smart and effective strategies. You'll have to know a lot of different subjects and topics for the exam, and you'll have to do it all in a limited amount of time.
UPSC NDA 1 2024 Exam Selection Process
To increase your chances of passing the NDA Exam on your first try, it's essential to begin by understanding the UPSC NDA Selection Process. This process provides important information about the level of commitment required for success. The selection process consists of two main phases:
Written Test: The first phase is the written exam, which carries a total of 900 marks. Those who pass the written exam will be invited for an interview. The written exam will include multiple-choice questions on various subjects such as:

Mathematics
General Ability Test (English and General Knowledge)
This written test is a crucial step in the NDA selection process.
| | | |
| --- | --- | --- |
| Subject | Maximum Marks | Duration |
| Mathematics | 300 | 2 Hours 30 Minutes |
| General Ability Test | 600 | 2 Hours 30 Minutes |
| Total | 900 | |
| SSB Interview | 900 | |
In addition to the written exam, there's another critical step in the NDA selection process, which is the SSB (Services Selection Board) Interview. The SSB interview includes several tests:
Intelligence and Personality Test: This test has two stages:

Stage 1: Officer Intelligence Rating Test and Picture Perception and Description Test.
Stage 2: Interviews, Group Testing, and Psychology Tests.
These stages are essential parts of the process as they play a fundamental role in your journey toward passing the NDA Exam.
NDA 1 2024 Exam Preparation Tips
To pass the UPSC NDA exam on your first try, you need a well-organized study plan and unwavering commitment. We've gathered some crucial tips to provide you with the right direction. These tips are like building blocks to help you approach the UPSC NDA exam with confidence and boost your odds of passing it on your first attempt.
1. UPSC NDA 1 2024 Exam Pattern
After understanding the NDA Exam's selection process, it's crucial to familiarize yourself with the subjects and topics specified in the UPSC NDA Exam Pattern. The exam pattern outlines the allocation of marks and formats for both parts of the exam: the Written Examination, which is worth 900 marks, and the SSB Interview, also totaling 900 marks. Having a grasp of these details is essential for creating a focused and effective preparation plan.
2. UPSC NDA 1 2024 Exam Syllabus
This tip highlights the importance of the syllabus, which gives a clear list of the subjects you need to study for the exam. The syllabus tells you exactly what topics are included and what you don't need to worry about. For the NDA exam, the syllabus covers Mathematics and the General Ability Test in the written examination. This information helps you concentrate your study efforts effectively.
NDA 1 2024 MATHS SYLLABUS
Differential Calculus
Analytical Geometry 2D & 3D
Integral Calculus
Differential Equations
Vector Algebra
Probability
Algebra
Matrices & Determinants
Trigonometry
NDA 1 2024 GENERAL KNOWLEDGE SYLLABUS
Physics
Chemistry
Biology
History
Geography
Current Affairs
3. Effective Study Plan for NDA 1 2024 Exam
To do really well in the NDA written exam and pass it on your first try, it's essential to create a smart study plan. This plan should help you manage your study time and cover the syllabus effectively. The key is to make sure your study schedule is well-organized, allowing you to get the best possible score in the exam. Also, don't forget to spend time building a strong foundation in the subjects. Your study plan should involve a detailed review of the entire NDA syllabus.
4. Previous Year Question Paper Solving
To improve your chances of passing the NDA exam on your first attempt, start your preparation by working on previous years' question papers. The exam pattern has been quite consistent over time, making this a crucial first step. By doing this, you accomplish two important things:
Familiarization: You become familiar with the kinds of questions that are typically asked and get a sense of the overall structure of the question paper. This early insight is valuable because it allows you to plan effectively even if you're not receiving formal coaching. It also gives you a solid grasp of the exam's difficulty level.
Time-Saving Techniques: You can master time-saving tricks, especially for the challenging Mathematics section. These shortcuts can significantly improve your ability to score well in this part of the exam. Additionally, understanding how marks are distributed, what the cutoff scores are likely to be, and the consequences of wrong answers or negative marking is essential for developing a clear exam strategy.
5. Time Management Skills
Mastering time management is a crucial skill, especially when dealing with competitive exams like UPSC NDA. It's essential not only during your preparation but also when taking the actual exam. You should approach the exam with a well-thought-out time management plan. Avoid tackling the longest or most challenging questions right at the beginning to maintain your confidence. Prioritize your tasks effectively to ensure you finish the exam within the given time. Becoming proficient in time management requires practice and experience, which will allow you to confidently handle time constraints during the exam.
Another key aspect of passing the NDA exam on your first attempt is consistent practice. Regular and repeated practice builds your confidence and ensures you have a strong grasp of fundamental concepts.
To give your preparation that final touch, engage in continuous practice. Go beyond just studying for the exam.
Regularly read newspapers, English books, and novels to improve your communication skills and expand your vocabulary. This ongoing practice not only sharpens your language abilities but also contributes to an overall enhancement in your understanding and knowledge.
Frequently Asked Questions :-
Q: When wiil NDA 1 2024 Exam get held ?
Ans: NDA 1 2024 Examination will be conducted on 21st April 2024.
Q: How Many Vacancies are there in NDA Exam ?
Ans : Total 400 seats will be there in NDA Exam for Boys and Girls .
Q: For How Many Marks NDA 1 2024 Exam will be held ?
Ans : NDA 1 2024 Exam will be conducted for 900 Marks whereas SSB Interview is also conducted for 900 Marks .
Q: What is full form of SSB ?
Ans: Full Form of SSB is Service Selection Board.