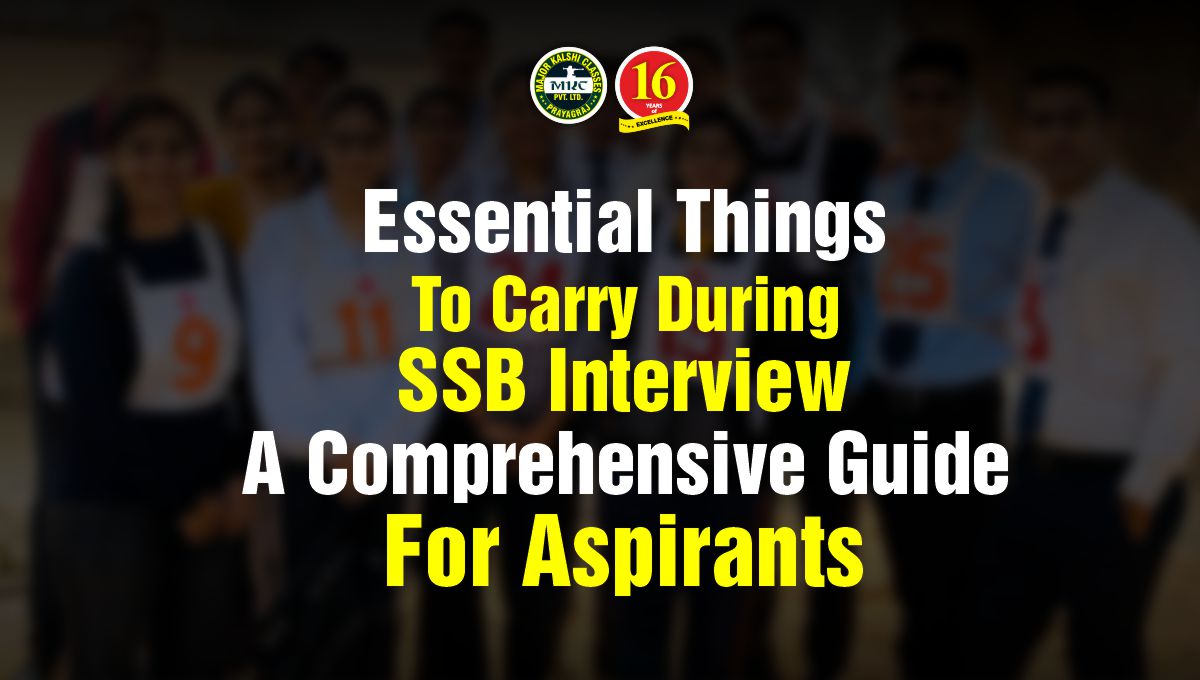 Essential Things to Carry During SSB Interview: A Comprehensive Guide for Aspirants
The Services Selection Board (SSB) Interview is a critical and challenging evaluation that determines the selection of potential candidates for officer-level positions in the Indian Armed Forces. Aspirants preparing for the SSB Interview must not only focus on honing their mental and physical capabilities but also pay attention to the essential items they need to carry during this multi-day assessment process. In this article, we present a comprehensive guide on the important things candidates should pack for a successful SSB Interview experience.
Essential Things to Carry During SSB Interview
1. Appropriate Clothing:
(a). Formal Attire: Candidates must carry formal clothing for the screening, psychological tests, personal interview, and other formal sessions. For male candidates, a formal shirt with trousers and formal shoes is recommended. Female candidates can opt for formal blouses with trousers or skirts or salwar kameez. It's essential to maintain a neat and professional appearance.
b. Sports/Gym Wear: Candidates will need comfortable sports or gym attire for outdoor activities, physical tests, and GTO (Group Testing Officer) tasks. Track pants, T-shirts, and sports shoes are suitable choices. Remember to wear appropriate attire that allows ease of movement.
c. Swimming Gear: If the SSB center has a swimming test, carry appropriate swimwear (swimsuit or trunks) and a towel.
2. Footwear:
a. Formal Shoes: Along with the sports shoes, ensure you carry a pair of well-polished formal shoes for formal events like the personal interview and conference.
b. Comfortable Sports Shoes: Invest in good quality sports shoes suitable for physical activities and outdoor tasks. Make sure they are broken in before the SSB Interview to avoid discomfort during the assessment.
3. Personal Care Items:
a. Toiletries: Carry basic toiletries such as a toothbrush, toothpaste, soap, shampoo, deodorant, shaving kit (for male candidates), and sanitary products (for female candidates).
b. Personal Medications: If you are under any prescribed medication, carry an adequate supply along with the prescription. Also, carry basic first aid items like band-aids and pain relievers.
c. Sunscreen and Lip Balm: Protect your skin from sunburn during outdoor activities by carrying sunscreen and lip balm with SPF.
4. Documentation:
a. SSB Call Letter: Carry multiple copies of your SSB call letter, along with any other relevant documents provided by the SSB.
b. Identification Proof: Carry original identification proof (e.g., Aadhar card, Passport, or Driver's License) and multiple photocopies.
5. Stationery:
a. Notebooks and Pens: Bring notebooks and pens for taking notes and participating in group discussions.
b. Clipboards: A small clipboard can be useful during the psychological tests and other activities.
6. Miscellaneous Items:
a. Water Bottle: Stay hydrated throughout the assessment by carrying a refillable water bottle.
b. Snacks: Carry some non-perishable snacks like nuts, energy bars, or biscuits to keep yourself energized during breaks.
c. Handkerchiefs/Tissues: Keep some handkerchiefs or tissues handy for personal use.
d. Umbrella/Raincoat: Depending on the weather, it's wise to carry an umbrella or raincoat to stay prepared for unexpected rain.
Remember, the SSB Interview is not just about showcasing your skills and abilities but also demonstrating your preparedness and organizational skills. By carrying these essential items, you can focus better on the assessment without unnecessary distractions. Paying attention to your appearance and personal hygiene also reflects discipline, which is a highly valued trait in the Armed Forces. Lastly, arrive at the SSB center with a positive attitude and the confidence to give your best, as that is what will ultimately set you apart as a potential officer. Good luck!