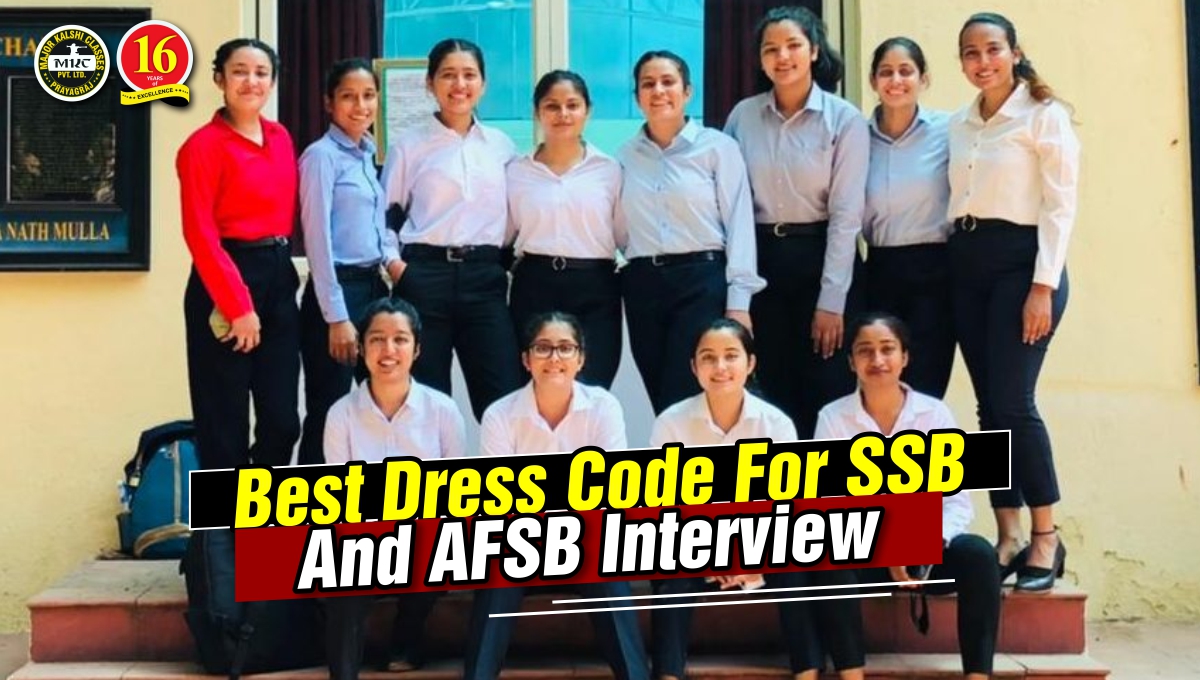 Best Dress Code for SSB and AFSB Interview
SSB Interview 2023 Dress Code : Making a good first impression is super important in an SSB interview. It's not just about your personality but also how you look. In the defense field, everyone is expected to be very disciplined all the time. So, what you wear and how you wear it is just as important as what you say and how you say it. If you're going for an SSB interview, make sure you follow the right dress code.
Dress Code for SSB Interview :-
| | | | | |
| --- | --- | --- | --- | --- |
| Sr. No. | Item | Male | Female | Remarks |
| 1. | Dark Coloured Trouser and Light Coloured Shirt | 1 Set | 1 Set | Suits/Sarees are permissible. |
| 2. | Shoes | 2 Pair | 2 Pair | Formal and Sports. |
| 3. | Neck Tie | 1 | 1 | Optional |
| 4. | Winter Wear | 1 | 1 | Seasonal requirement during Winter |
| 5. | White Shirt & T-Shorts | 1 Set | – | For GTO Tests |
| 6. | Track Suit | 1 | 2 Set | For Winters Only and For GTO |
Formal Dress for SSB Interview
Screening and Personal Interview Dress Code
Shirt : Wearing formal clothes during the screening process is a good idea. It helps create a positive first impression and can make you feel more confident and at ease. A light-colored shirt with dark formal pants is still a stylish and simple choice that works well.
White Shoes : Many candidates make a mistake when choosing their shoes. It's important to wear good sports shoes because they protect your feet during physical tasks. Also, make sure your shoes have a good grip because GTO activities often take place early in the morning on dewy ground.
Blazers (Only in Winter) : You can look really classy in a nice blazer, but make sure it's comfortable. Don't wear it on extremely hot summer days, or you'll feel really uncomfortable.
For GTO:
Men: You should wear a white t-shirt and shorts with sports shoes. In the winter, you can also wear a track suit.
Women: Wear a track suit with sports shoes during GTO.
For the Personal Interview:
Men: You can wear a formal shirt, pants, and shoes. A blazer and tie are optional.
Women: You can wear a formal shirt, pants, and shoes, or a saree. A blazer and tie are optional for women too.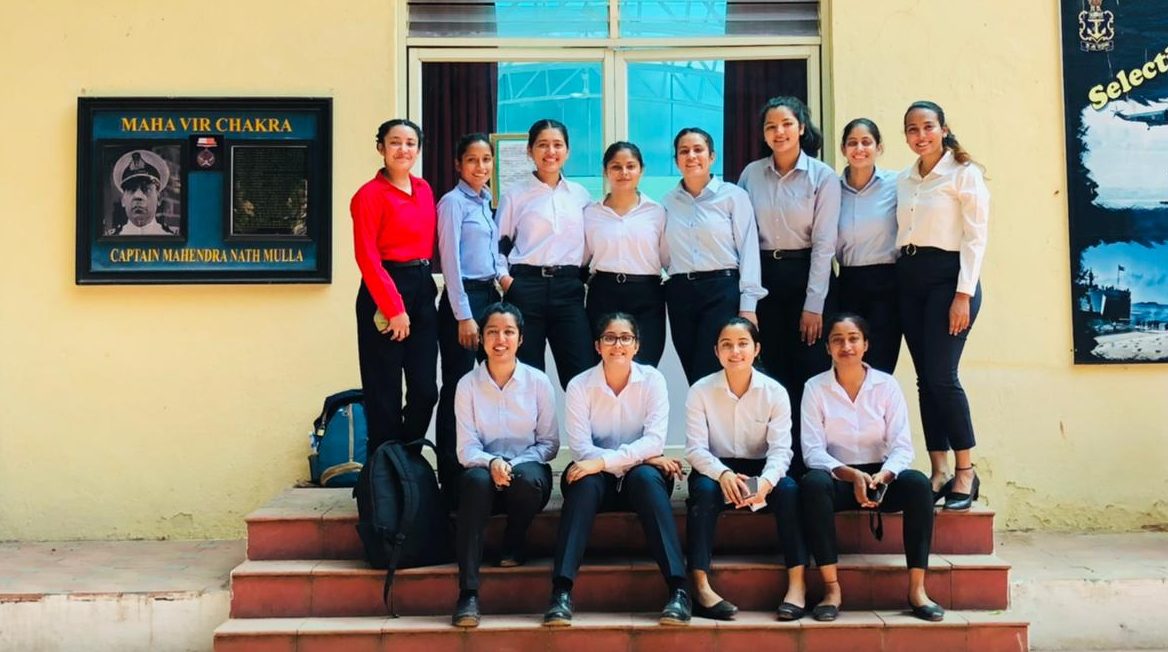 Conference Day Dress Code
The dress code for the conference is formal attire. Candidates are recommended to wear clean and neat clothes during the conference. It's a good idea to bring two sets of formal outfits – one for the personal interview and another for the conference. You can also review the SSB interview dress code guidelines for both men and women. If you have any questions about the dress code for the SSB Interview, feel free to ask in the comment box below.
SSB Interview : Complete 5 Days Procedure
The SSB (Service Selection Board) interview is a crucial selection process used by the Indian Armed Forces (Indian Army, Indian Navy, and Indian Air Force) to evaluate and select candidates for officer-level positions. It is a comprehensive and rigorous assessment that aims to identify individuals with the qualities and attributes required to be successful leaders in the armed forces. The SSB interview process is typically conducted over a span of five days and consists of multiple stages. Here is a detailed explanation of the SSB interview process:
1. Screening Stage (Day 1):
a. Officer Intelligence Rating (OIR) Test: The day starts with the OIR test, which includes multiple-choice questions to assess a candidate's verbal and non-verbal intelligence. This test is used to shortlist candidates for the next stage.
b. Picture Perception and Description Test (PPDT): In this test, candidates are shown a picture for 30 seconds and are required to write a story based on what they perceive in the image. Candidates have 4 minutes to write their stories.
c. Discussion: After completing the PPDT, candidates participate in a group discussion where they share their stories and try to arrive at a common storyline.
2. Psychological Testing (Day 2-3):
This stage assesses the candidate's psychological and personality traits. It includes the following tests:
a. Thematic Apperception Test (TAT): Candidates are shown a series of ambiguous pictures and are required to write a story about each picture, including details such as the characters, situation, and outcome.
b. Word Association Test (WAT): In this test, candidates are presented with a set of 60 words, one after the other. They have to write a sentence using the word within 15 seconds.
c. Situation Reaction Test (SRT): Candidates respond to a series of 60 situations/scenarios by writing down what they would do in each situation.
d. Self-Description Test (SD): Candidates are required to write a self-description in terms of their strengths, weaknesses, likes, and dislikes.
e. Group Testing Officer Tasks (GTO Tasks): This stage involves a series of group activities that assess various leadership qualities. These activities include:
Group Discussion (GD): Candidates participate in group discussions on specified topics.
Group Planning Exercise (GPE): Candidates are given a problem-solving task to plan and execute as a group.
Progressive Group Task (PGT): Candidates navigate physical obstacles as a group.
Half Group Task (HGT): Similar to PGT but with a smaller group.
Individual Obstacles: Candidates tackle individual physical obstacles.
Command Task: Candidates take turns leading a sub-group in a task.
Final Group Task (FGT): A final group task that combines elements of the previous tasks.
3. Interview (Day 4):
Candidates face a personal interview with an Interviewing Officer (IO). The IO assesses the candidate's personality, communication skills, aspirations, and overall suitability for a career in the armed forces. The interview aims to understand the candidate's thought process, motivations, and decision-making abilities.
4. Conference (Day 5):
On the final day, all assessors, including the Interviewing Officer, Group Testing Officer, and Psychologist, convene for a conference. They review each candidate's performance in all stages and discuss their suitability for the armed forces. A final decision is made on whether a candidate is recommended, not recommended, or placed in the 'conference out' category.
Candidates who receive a recommendation from the SSB interview are eligible for further medical examination and subsequently, if they clear the medical standards, they proceed to the final merit list for officer entry into the Indian Armed Forces.