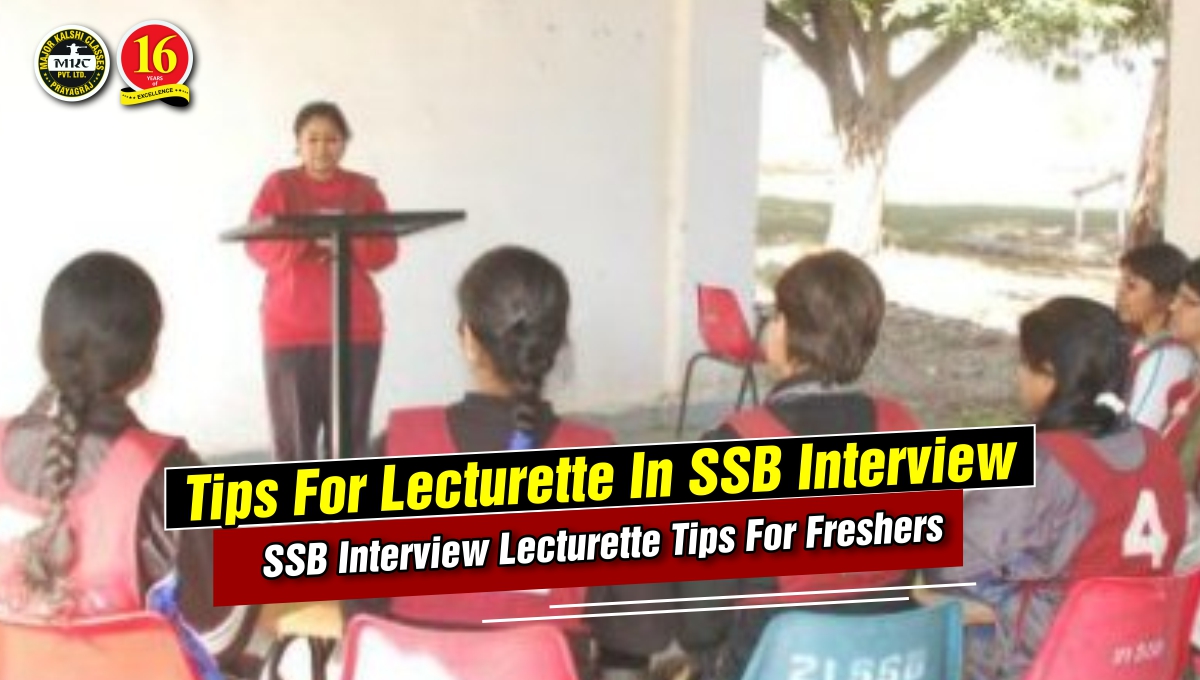 Tips for Lecturette in SSB Interview | SSB Interview Lecturette Tips for Freshers
SSB Lecturette : Every leader must lead their team, inspire them, and explain the plan. To do this well, you need to sound sure of yourself and speak clearly. To see if you can do this, the SSB panel gives you a test called a "lecturette" during the GTO round. In this test, they give you a card with four topics on it, and you have three minutes to get ready. After those three minutes, you have to give a short speech about one of those topics. So, candidates should be ready for this task and keep all the important things in mind. In this blog , we shall know some Tips for Lecturette in SSB Interview. Join Major kalshi Classes – Best SSB Interview Coaching in India.
SSB Lecturette
Many students who want to join the military, especially those who are new to it, often wonder how to do well in the SSB Interview Lecturette. The lecturette is an important task that assesses several qualities needed to be an officer. It tests how well a candidate can express their thoughts to a team under time pressure.
In this article, we will share some valuable tips for both newcomers and those who are trying again to improve their performance in the SSB Interview lecturette.
The lecturette is one of the tasks conducted during the Group Testing Officer (GTO) Technique on the second day of GTO tasks. The reason behind this task is that an officer in the Indian Armed Forces must lead and command their team effectively. They need to be able to express themselves in a way that motivates their team and leads them to success. Building confidence and enthusiasm in subordinates is essential, and what they say should be inspiring and effective. This test helps assess these qualities, which are essential to match the Officer-Like Qualities (OLQs). In this task, GTO gives candidates three minutes to prepare before they speak.
If you're preparing for your SSB interview, these tips can help you perform better in the lecturette task.
Key Points for SSB Lecturette
Your self-confidence is crucial in the lecturette task. Speak with confidence and conviction.
Your power of expression matters; you should be able to influence the group effectively.
Clear thoughts and a strong command of the language you're speaking are essential.
You need to show confidence and speak confidently even under stress. It takes courage to speak in front of people.
Your awareness of general knowledge and your perspective on current news and affairs topics are also assessed. Your personal opinions on recent news matter.
Must Read – How to Prepare Current Affairs for SSB Interview
How to Deliver the SSB Interview Lecturette ?
During the lecturette, you'll receive a card with four topics, and you get to choose one. It's important to pick a topic you know well and provide some facts and figures about it. Here are some tips for your SSB Interview Lecturette:
Begin with a Strong Introduction: Start your lecturette with a compelling and effective introduction. Make eye contact with your group while you speak to engage them right from the beginning.
Mind Your Body Language: Your body language is crucial. Avoid excessive hand movements, stand upright, and speak confidently. A touch of humor, if appropriate, can be engaging.
Provide Information: In the main part of your talk, share facts and figures about the topic. Discuss its pros and cons while maintaining eye contact with your group.
Sum Up Effectively: Use your time wisely and conclude your lecturette with a meaningful message, logical opinion, or a valuable suggestion related to the topic.
Language Choice: While the lecturette is supposed to be delivered in English, you can switch to Hindi temporarily if you get stuck, but try to return to English as soon as possible.

To excel in your lecturette, consider these additional tips:
Stay Informed: Keep yourself informed by reading newspapers regularly. Focus on common topics with national and international importance. This will help you have good content for your lecturette.
Practice Speaking: Practice speaking in front of a mirror. You can also record your voice to identify areas for improvement. This technique can help you become more confident and articulate.
Speak Clearly: During your SSB lecturette, speak slowly, clearly, and purposefully. Ensure that your words are easy to understand.
Eye Contact: While speaking, avoid looking at the Group Testing Officer (GTO). Instead, maintain eye contact with your fellow team members. This demonstrates your ability to engage and lead a group effectively.
Manage Time Effectively: Be mindful of the time given for your lecturette. Finish your presentation within the specified time frame. Avoid exceeding the time limit, but also don't rush to finish too early.
These additional tips will further enhance your performance in the SSB lecturette and help you convey your ideas effectively.
Join Major kalshi Classes for SSB Interview Preparation
Major Kalshi Classes is a renowned institute for SSB (Services Selection Board) interview preparation. We have a strong track record of helping candidates successfully crack the SSB interview and secure positions in the Indian Armed Forces. Here are some key reasons why you should consider joining Major Kalshi Classes for your SSB interview preparation:
Experienced Faculty: Major Kalshi Classes has a team of experienced and qualified faculty members who are experts in their respective fields. They provide comprehensive guidance and training for all stages of the SSB interview.
Comprehensive Course Material: The institute offers well-structured course material that covers all aspects of the SSB interview, including psychological tests, group discussions, personal interviews, and more.
Mock Interviews: Major Kalshi Classes conducts regular mock interviews to simulate the actual SSB interview environment. This helps candidates gain confidence and improve their performance.
Physical Fitness Training: Physical fitness is an essential aspect of SSB interview preparation. The institute provides physical fitness training to ensure that candidates are physically prepared for the SSB tests.
Personalized Coaching: Major Kalshi Classes offers personalized coaching to cater to the specific needs of individual candidates. They provide feedback and guidance to help candidates improve their weaknesses.
Success Rate: Major Kalshi Classes has a high success rate, with many of their students clearing the SSB interview and joining the armed forces.
Online and Offline Classes: They offer both online and offline classes, making it convenient for candidates to choose the mode of instruction that suits them best.
To enroll in Major Kalshi Classes for SSB interview preparation, you can visit our official website or contact at 9696330033 for more information. Remember that thorough preparation and guidance can significantly increase your chances of success in the SSB interview and help you achieve your goal of serving in the Indian Armed Forces.