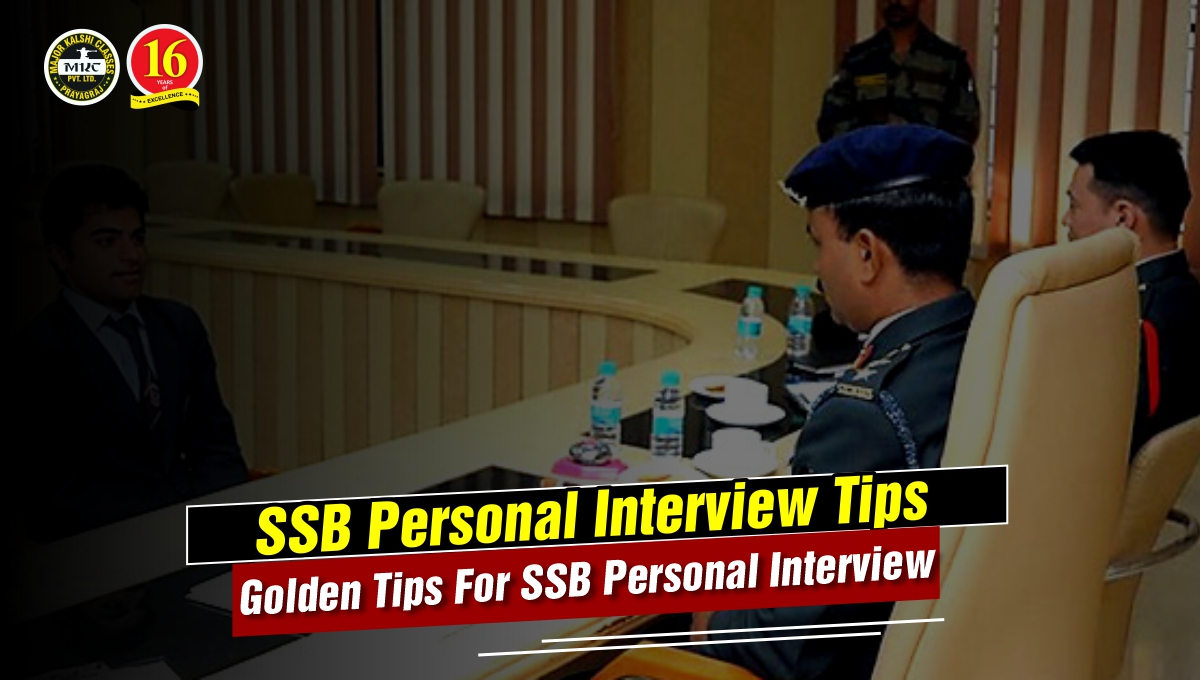 Effective Tips for Personal Interview in SSB | SSB Personal Interview Tips for Freshers
SSB stands for Service Selection Board . Every Candidate who aspire to join Indian Armed Forces at Officer Ranks have to Qualify SSB Interview . SSB Interview is a Five days Selection process . In this testing process , Candidate's Officer Like Qualities are evaluated .Are you ready to embark on a journey towards securing your dream career in the armed forces? The Services Selection Board (SSB) interview is a crucial step that stands between you and your aspirations. In this blog, we delve into the art of acing the SSB interview, equipping you with essential insights and tips to shine throughout the selection process.
SSB Interview :- Five Days Procedure
The SSB interview is a comprehensive evaluation that assesses not only your intellectual capabilities but also your personality traits and potential to become a leader. Divided into various stages, the interview scrutinizes your Officer Like Qualities (OLQs), including effective communication, problem-solving, and team collaboration.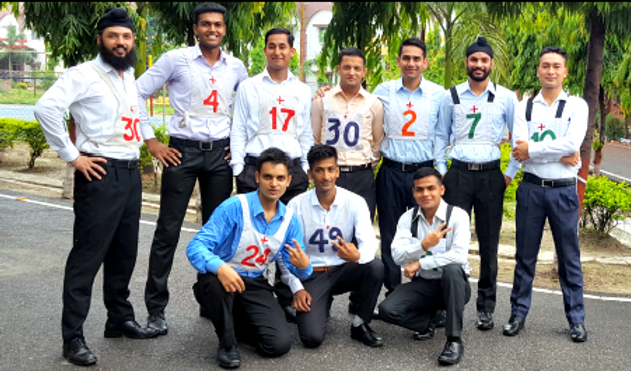 Day-wise Breakdown of the SSB Interview Process
To succeed, you must be well-prepared for each stage of the interview. Let's take a look at the day-wise breakdown:
Day 1: Screening Test
The initial day consists of a Basic Screening Test. On the very first day , Candidates have to appear for Intelligence Test (Verbal & Non-Verbal Reasoning Test) and Picture Perception and Discussion Test(PPDT). Your performance here determines whether you proceed to the next stages. Those who fail in this test , move back to their home whereas those who qualify it move ahead in the Selection Process .
Day 2: Psychological Tests
This day involves various psychological assessments, offering insights into your personality and compatibility for a military career. In this Psychological Test Battery , Four Tests are included i.e., Thematic Apperception Test (TAT), Word Association Test (WAT), Situation Reaction Test (SRT) and Self Description Test (SDT).
Day 3-4: Group Testing Series
Here, your teamwork skills, decision-making, and problem-solving abilities are put to the test through group activities and tasks. GTO includes of 3 Indoor Tasks and 6 Outdoor Tasks .
Day 5: Personal Interview
The personal interview phase allows the interviewers to gauge your motivation, aspirations, and overall suitability for an officer's role.
Day 6: Conference
The final day involves a conference where all assessors collectively decide on the suitability of each candidate based on their performance throughout the interview process.
Personal Interview in SSB:
The personal interview stage is designed to dig deeper into your persona, thoughts, and attitudes. It's an opportunity for the interviewers to assess your clarity of thought, communication skills, and the alignment of your values with those of the armed forces.
Do's & Don'ts during SSB Personal Interview – Read Here .
Effective Tips for Personal Interview during SSB :-
Here I'm with some most effective tips for SSB Interview that will certainly help you during your PI .
First Impression – Your first impression over the interviewer matters a lot. Try to be humble & grant permission before sitting . Sometimes you may also be greeted with a handshake, so give him a good response.
Expressions & Eye Contact – Everyone is nervous while PI, but put a smile on your face . Look Confident & mainitain eye contact while answering question .
Body Language – Maintain a good body posture . Sit Comfortably,do fewer hand movements & don't shake your leg .
While going for the interview, you should be in a proper formal dress, as mentioned in the instructions. Comb your hair correctly and choose the right color combination for the dress.
Fill your PIQ very carefully as it is makes your initial image in the Interviewer . Be precise, what you are writing .
Be Honest with your answers . Don't try to bluff otherwise, you will be caught easily .
You must think before you speak .
Remember it's a interaction more than a interview. Remain calm & enjoy the interaction with the assessor. I'm sure the assessor will enjoy the same .
Preparing for the Personal Interview: Key Tips
Research and Self-Reflection
Before the interview, conduct research about the armed forces, their history, and current events. Reflect on your own motivations and reasons for wanting to join the forces.
Develop a Strong Presence
Work on your body language, eye contact, and overall demeanor. A confident and composed presence can leave a lasting positive impression.
Practice Mock Interviews
Conduct mock interviews with friends, mentors, or even by recording yourself. This practice can help you refine your responses and identify areas for improvement.
Mastering Communication: Articulate Your Thoughts
Be Clear and Concise
When responding to questions, maintain clarity and brevity. Long-winded answers can dilute the impact of your message.
Listen and Respond
Pay close attention to the interviewer's questions. Respond directly to what's asked, ensuring that your answers are relevant.
Avoid Jargon and Slang
Use clear language and avoid technical jargon or slang. Your ability to convey complex ideas in simple terms is a valuable skill.
Displaying Officer Like Qualities (OLQs)
Effective Communication
Demonstrate your ability to communicate effectively, both verbally and non-verbally. Clear communication is integral to leadership.
Problem-Solving Skills
Share instances where you've tackled challenges creatively and efficiently. Problem-solving is a hallmark of a capable officer.
Team Collaboration
Highlight experiences where you've worked seamlessly in a team, showcasing your adaptability and cooperation skills.
What are Officer Like Qualities (OLQ's) :-
In the rigorous evaluation process of the Services Selection Board (SSB) interview, Officer-Like Qualities (OLQs) play a pivotal role in assessing an individual's potential to become a successful leader in the armed forces. Let's explore the key OLQs that are closely scrutinized during the SSB interview.
Effective Intelligence
Reasoning Ability
Power Of Expression
Organizing Ability
Social Adaptability
Sense of Responsibility
Co-operation
Self Confidence
Initiative
Ability to Influence the Group
Speed of making Decision
Determination
Liveliness
Courage
Stamina
In the pursuit of selecting individuals who have the potential to lead with distinction, the SSB interview focuses keenly on identifying these Officer-Like Qualities. As you prepare for the SSB interview, remember that it's not just about showcasing these qualities; it's about truly internalizing and living them, as they form the foundation of a successful officer's journey.
Are You Preparing for SSB Interview & want sure selection , Join Major kalshi Classes – Best SSB Interview Coaching in India .
Major Kalshi Classes boasts a team of experienced and dedicated mentors, many of whom are retired officers from the Indian Armed Forces. This wealth of practical knowledge and first-hand experience in the field lends a unique edge to the coaching provided. The mentors understand the intricacies of the SSB Interview process and are adept at imparting the essential qualities required for success.
Best SSB Interview Classes at Major kalshi Classes :-
Experience of Retd. Ex- SSB Board Officers who guides and polishes OLQ's of every student equally.
Biggest GTO Ground in India with All Outdoor GTO Tasks .
Daily OIR & GD/Lecturette Session to Improve Reasoning Ability and Communication skills .
Mock Interview by SSB Board Interviewing Officers .
Psychological Tests and Personal Feedback given to every candidate .
Best Hostel Facility to Boys & Girls .
To Join Major kalshi Classes , SSB Interview Online Classes, Download MKC Learning App . For Any Assistance , Call us on 9696330033 or Whatsapp at 9696220022 .
Frequently Asked Questions :-
1. What Is the Purpose of the SSB Interview?
The SSB interview is a comprehensive assessment designed to evaluate your potential to become a successful officer in the armed forces. It goes beyond testing academic knowledge and delves into your personality traits, leadership abilities, and suitability for a military career. The interview aims to identify candidates who embody the Officer-Like Qualities (OLQs) essential for effective leadership.
2. What Are Officer-Like Qualities (OLQs), and How Can I Showcase Them?
OLQs are the core attributes that define a capable and inspiring officer. These qualities include effective communication, problem-solving skills, leadership potential, adaptability, and a positive attitude. To showcase OLQs, share real-life instances where you've demonstrated these qualities, whether in academics, sports, extracurricular activities, or personal experiences. Be authentic and highlight your unique strengths.
3. How Can I Prepare for the SSB Interview?
Preparation is key to success in the SSB interview. Join Major kalshi Classes – Best SSB Coaching in Allahabad .
4. What Happens During the Group Testing Series (GTO) and How Should I Approach It?
The GTO phase assesses your teamwork, leadership, and decision-making skills. It includes group activities, outdoor tasks, and group discussions. GTO evaluates your ability to work harmoniously in a team, so demonstrate cooperation and adaptability.
5. How Can I Stand Out in the Personal Interview?
The personal interview is a chance to showcase your individuality and alignment with the armed forces' values. Be authentic and honest in your responses. Highlight instances from your life that demonstrate your OLQs, leadership potential, and commitment to service. Maintain confident body language, listen attentively to the interviewer's questions, and respond succinctly with clarity.