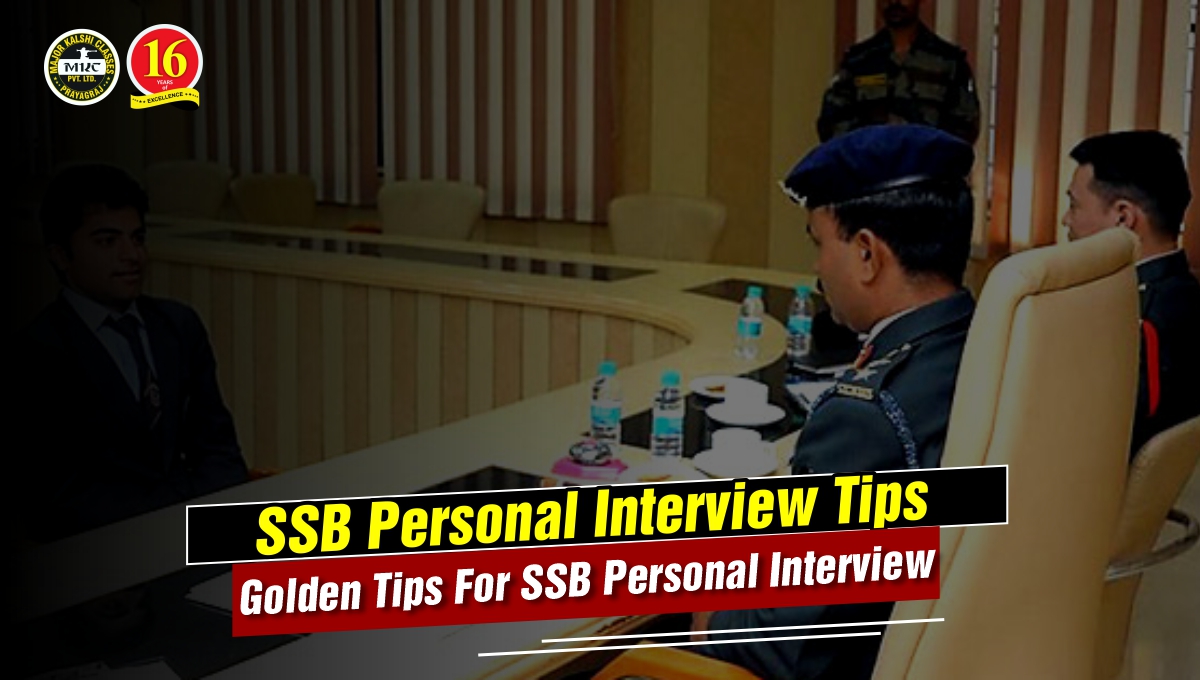 SSB Personal Interview Tips | Golden Tips for SSB Personal Interview
SSB Interview : The SSB (Services Selection Board) Interview is a crucial selection process conducted by the Indian Armed Forces to identify promising candidates for officer-level positions. It's a rigorous evaluation that goes beyond mere academics, aiming to assess the candidate's personality, character, and potential to become an effective leader. During SSB Interview , Candidates undergo a Personal Interview where they have to Interact with Armed Forces officers. Many Candidates get rejected during SSB because of PI . In this blog ,we shall know some Golden Tips for SSB Interview .
What is SSB Interview ?
The SSB Interview is a specialized selection process used by the Indian Army, Navy, and Air Force to recruit officers. Unlike traditional job interviews, the SSB Interview focuses on evaluating the overall personality and potential of candidates. The interview is conducted over a period of multiple days and comprises various psychological, physical, and personal assessment tests. The objective is to identify individuals who possess the qualities required to become successful military officers.
Stages of SSB Interview :-
The SSB Interview process is divided into multiple stages, each designed to evaluate different aspects of a candidate's personality and suitability for an officer role. The main stages include:
1. Screening Test
The initial stage is a Screening Test, which includes a OIR Test and PPDT(Picture perception and Discussion Test ). This test is used to shortlist candidates for the subsequent stages of the interview.
2. Psychological Tests
The Psychological Tests assess the candidate's personality, including their intelligence, aptitude, and compatibility with military life. These tests include the Thematic Apperception Test (TAT), Word Association Test (WAT), Situation Reaction Test (SRT), and Self-Description Test (SDT).
3. Group Testing
The Group Testing stage involves a series of group activities that assess the candidate's leadership skills, teamwork, and ability to handle pressure. Activities like group discussions, group planning exercises, and outdoor tasks are conducted.
4. Personal Interview
The Personal Interview is a one-on-one interview with an interviewing officer. It's an opportunity for the candidate to showcase their knowledge, aspirations, and suitability for the officer role.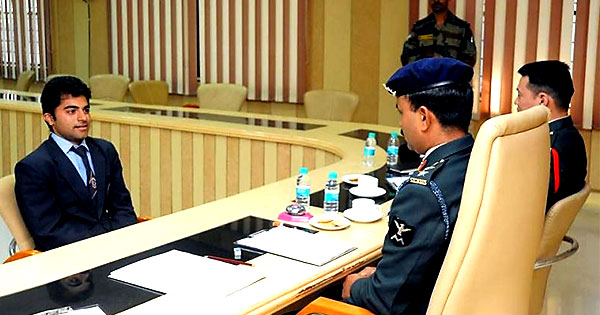 5. Conference
The final stage is the Conference, where all assessors discuss and decide the suitability of each candidate. This decision is based on their performance across all stages of the interview.
SSB Personal Interview Tips :-
First of all you have to remove from your mind that this is an interview, It is just an Interaction with an officer of Colonel or Brigadier rank. You will be surprised to know that many officers do not get a chance to meet officers of these ranks even in the entire service and you are getting this golden opportunity even before the selection. Believe me, the more Excited you are during your PI, the more the Assessor is also there to meet you.
No outside questions are asked during PI, rather all the questions are asked from what you have written in your PIQ form and when you answer these questions, the assessor just sees whether you have officer like qualities of not .He asks questions related to your basic education, sports, your hobbies, activities and any other interests in life, your relationship with your parents, friends, teachers and your general knowledge. Many candidates try to hide something from the interviewer or lie, but this is wrong.
Do's & Don'ts of SSB Personal Interview :
Identify your strengths – It becomes very important for you to know your Strengths & Weakness because this becomes the basis of your selection. You must have leadership skills, teamwork, communication skills, initiative and positive attitude.
Wear clothes that are neat and comfortable – First Impression is the Last Impression, you must have heard this too, that's why wear clean, neat clothes during PI, it will create a good impression towards you in the mind of the Assessor.
Remember to speak clearly with proper intonation, sound enthusiastic and above all, be natural and relaxed.
Maintain eye contact and an alert position: sit up straight, don't slump.
Always adopt a professional and officer-like manner, be honest, listen intently and use strong positive language.
Do not be in a hurry to answer any question. First listen to the question and then answer it after thinking. Always take care of T-BUS – Think Before You Speak.
Do not get too deep into your personal life and avoid being sentimental.
If you don't know something, say it clear and loud.
Give the interviewer your full attention, wait for them to finish speaking before you answer or ask questions.
Relax! A smile is the most positive signal you can give, as it reaffirms your enthusiasm and good nature. That's why a smile should always remain on your face. Armed Forces never selects Stressed candidates.
What Questions are Asked in SSB Personal Interview – Read Here .
How to Prepare for the SSB Interview ?
Preparing for the SSB Interview requires a holistic approach that covers various aspects of your personality, knowledge, and physical fitness. Here are some essential tips to help you excel:
1. Self-Awareness
Gain a deep understanding of your strengths, weaknesses, and personal qualities. This self-awareness will help you confidently tackle the interview's psychological tests and personal interactions.
2. Current Affairs
Stay updated with national and international current affairs. This knowledge is crucial for group discussions and personal interviews.
3. Physical Fitness
The SSB Interview includes physical activities, so ensure you're in good physical shape. Regular exercise and a healthy lifestyle can make a significant difference.
4. Effective Communication
Work on your communication skills, both verbal and non-verbal. Clear and confident communication reflects your leadership potential.
5. Problem-Solving
Practice problem-solving exercises and critical thinking. These skills are vital for the group testing stage.
6. Mock Interviews
Participate in mock interviews to gain confidence and receive constructive feedback. Mock interviews help you identify areas for improvement.
Cracking SSB is not an easy task. SSB is not the toughest selection process in the country just in name. To crack it you will have to exert full force and show your Officer Like Qualities .
If you want to Best SSB Interview Guidance , Join Major kalshi Classes – Best SSB Interview Coaching in India. Major Kalshi Classes boasts a team of experienced and dedicated mentors, many of whom are retired officers from the Indian Armed Forces. This wealth of practical knowledge and first-hand experience in the field lends a unique edge to the coaching provided. The mentors understand the intricacies of the SSB Interview process and are adept at imparting the essential qualities required for success.
Best SSB Interview Classes at Major kalshi Classes :-
Experience of Retd. Ex- SSB Board Officers who guides and polishes OLQ's of every student equally.
Biggest GTO Ground in India with All Outdoor GTO Tasks .
Daily OIR & GD/Lecturette Session to Improve Reasoning Ability and Communication skills .
Mock Interview by SSB Board Interviewing Officers .
Psychological Tests and Personal Feedback given to every candidate .
Best Hostel Facility to Boys & Girls .
To Join Major kalshi Classes , SSB Interview Online Classes, Download MKC Learning App . For Any Assistance , Call us on 9696330033 or Whatsapp at 9696220022 .
Frequently Asked Questions : –
What is the purpose of the SSB Interview?
The SSB Interview aims to identify candidates with the potential to become successful military officers by evaluating their personality, character, and leadership traits.
Is prior military knowledge necessary for the SSB Interview?
No, prior military knowledge is not necessary. The interview focuses on your personality and potential rather than your knowledge of military matters.
How long does the SSB Interview process last?
The SSB Interview process spans for five days, during which candidates undergo various stages of assessment.
Can females also appear for the SSB Interview?
Yes, both male and female candidates can appear for the SSB Interview for officer recruitment in the Indian Armed Forces.
What are the common reasons for rejection in the SSB Interview?
Candidates are often rejected due to lack of self-confidence, inadequate communication skills, poor physical fitness, or inability to work effectively in a team.
How can I handle the pressure during the interview?
To handle the pressure, stay calm, be authentic, and focus on showcasing your true potential. Remember that the assessors are looking for genuine qualities.